1448th BLOG POST -->>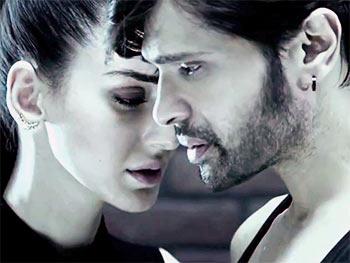 Well, when you have nothing to do and you want to find what can be the new low in your life, watch Himesh Reshammiya's movies. I did the same this weekend by watching the latest flick of the music-director-turned-actor, Himesh's Teraa Surroor. This movie is said to be the sequel of the 2007 hit "Aap Ka Surroor". I couldn't find anything that could define this as sequel as there is no reference being given of the previous movie. This is one independent movie which deserves to be jailed for its content-less drama of 1 hour and 40 minutes. Well, the length of the movie is the best thing as you don't need to suffer more. The kind of money spent on this movie is quite visible as whole shooting has been done abroad.
The first few scenes of the movie makes you believe that there might be something new in this flick but as you progress and first 20 minutes of the movie gets over, you know there's going to be nothing in this yet another starrer of Himesh. A very poorly made movie with no proper direction of where to go. Himesh Reshammiya, I do not know how and why, keeps the same expression through out the movie. There's not a second when he have even smiled. He tries to keep a tragic expression so that audiences can sympathize with his character who have lost his girlfriend because of letting her know about his One Night Stand and later getting to know about her being behind bars as she is found with drugs by officials. The great thing is that he doesn't smile even when he is with his lady love. What can be more tragic than this?
Another thing that keeps irritating me is the continuous background music which keeps playing no matter what is going on the screen. Himesh makes sure that his music should keep playing like a continuous instrumental music behind the movie to let the audience know that the movie is all about a Music Director who is also trying to be an actor so that his fans can also watch him do some actions. Actions? Yet another joke in this movie. In every scene where Himesh is hitting a bad guy, the cameraman rather than showing us how the rookie has been punched directly show us him falling or dying or struggling to stand.
This movie could have become watchable in case if Himesh would have acted with little more versatility but because he has himself become a stone in this movie, the actress who has been dubbed, the presence of Naseeruddin Shah, Shekhar Kapoor and Kabir Bedi irritates you more as to what made them become a part of this senseless movie. Himesh should understand that he is not Salman Khan for whom audience will pay just to watch him walking or giving a frown look. Wake up, buddy. Please! Before the earth loses its cool and blasts and the humanity ends abruptly.
Thanks.
ABHILASH RUHELA - VEERU!!!