1474th BLOG POST -->>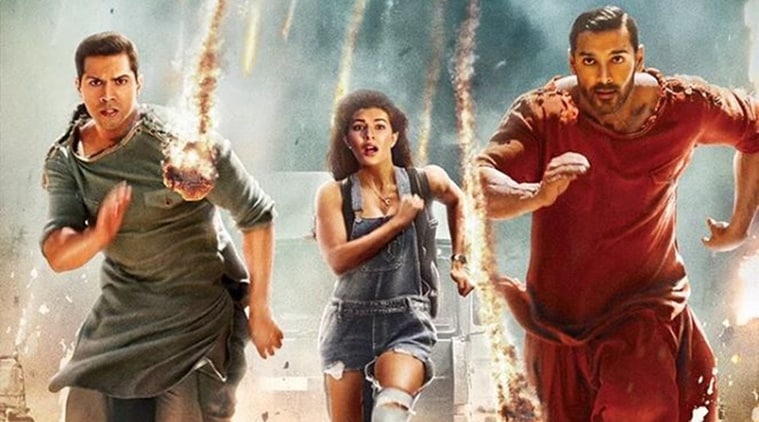 When the trailer of "Dishoom" got launched, I thought it is going to be something like Dhoom where they have just added "is" in the tile of the movie to make it sound more special. But the movie goes nowhere from Dhoom to Dishoom but only falls down because of its plot-less story. The first 15-20 minutes are great as the premise is been set where the most popular player of the world and also India gets kidnapped by someone in Dubai just before a final match against Pakistan. He is the only one who is scoring runs for India hence he is needed if India wants to win this one. A character inspired from Sushma Swaraj gives order about how to find the Indian cricketer in a foreign land. And finally Kabir (John Abraham) is sent for the case. He meets Junaid (Varun Dhawan) in Dubai who joins him in this adventurous case where they do not know anything about the criminal.
A very great movie could have been made with such kind of a setting but what the director have ended up making is nothing but fun of himself. Senseless scenes are stretched for so long especially the ones that have Jacqueline in it that you want to leave the theater as soon as you can. The movie tends to be an action one but for most of the time, the characters are only talking among themselves. Also, the characters keep forgetting in between that they are here to solve a case for which they have very limited hours. They dance in between of this. The characters also keep arguing among themselves for silly jokes. Many such things and even selfie-clicking along with the two officers entering pool in shorts keep happening in the movie which isn't convincing at all.
Talking about the performances. John Abraham is as always poor with that one frown which he carried throughout the movie. It has come to his ego, I think, that he has to be named Kabir in every movie that he is acting in to prove that he will always remembered for playing this name again and again. Varun Dhawan tries hard to make this movie funny but with weak plot and dialogues, even he looked helpless which is very unlikely. Jacqueline's purpose in the movie is still a mystery. Akshay Khanna's comeback is enough stupid to not wanting to see him again. The only good thing in this movie are locations and a cameo of Akshay Kumar. That's it. I give this movie 0 stars.
Thanks.
ABHILASH RUHELA - VEERU!!!