1098th BLOG POST -->>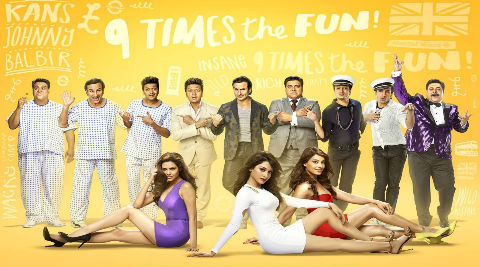 It's 3 AM right now when I am about to start writing this piece. And you know why I chose this timing? Because I am just done watching Humshakals, a movie that has triple role of all the three actors. Hahahahahahahahahaha!
If you felt that what has happened above has been the worst that you have faced, I am happy that you have still not gone through what I have just survived. SAJID KHAN's HUMSHAKALS. I totally agree with the concept of few directors to keep our brains at home while going to watch their films in multiplexes. But, at least, it assures few laughter moments like Chennai Express, Welcome etc did. Unbelievably and surprisingly, this movie does not have even a single scene that could even make you smile slightly. Leave laughing and rolling on floor like an idiot. Movie starts with showing how Saif Ali Khan tries to be Stand-up comedian and his audiences walks away each time. That's what it has become for Sajid Khan with each movie of his including even this. Only I know the torture these 160 minutes did to me. TRAGIC!
Sajid Khan finds it totally normal and decent to pass jokes and silly remarks on gays, homosexuals, dwarfs, mentally-challenged, physically-challenged, paralytic patients, disabled and even obese people. You witness such scenes and you are left wondering- Is this for real?
You must have laughed when you found illogical quotients in several films recently which did surprisingly good at Box Office but here, you will die of finding how illogical can Sajid Khan get not once but time and again in this movie repetitively. There's a drug that makes human behave like dog for 24 hours. There's a patient in mental asylum who gets enough mad to murder people whenever he finds anyone sneezing and coughing. Great part is that he forgets that he is killing someone as soon as he is handed Lollypop because it's his favorite. In the end, you will even find the duplicate of Prince Charles who speaks Punjabi. And the biggest invention of illogicality has been the triple roles for each of the three characters. Thanks to Sajid Khan that he spared actresses from cloning themselves. I WANT TO DIEEEEEEEEEE!!!!!
Saif Ali Khan is just trying too hard to fit into the movie and he is making stupid of himself in almost every frame. Is he the same actor who worked in Omkara, Race series and Love Aaj Kal? Definitely, NO! Another good actor, Ram Kapoor, is made to look stupid at gunpoint, it seems. Riteish Deshmukh is the only one who does well in all the three roles played by him. He justifies why he is part of almost 80% of comedy movies made in Bollywood. All the actresses are made to giggle, dance and sing in short skirts. More than Tamannah, her legs talk in the movie. Even the lyricists are so out of order that they are making us believe that junoon and Caller-tune rhymes with each other. Coming to the choreography, well, all of you must have seen the Caller-tune signature-step. I need not explain that to you.
If this is how Bollywood is going to make comedy movies in future, I must tell you that it's better to watch some movies which are not even promoted as comedy but makes you laugh more than enough. E.g. 3 Idiots, Rang De Basanti, Dabangg. Sajid Khan has totally lost the plot and while watching Humshakals, you will feel at many times that he has purposely done this to make fool out of the audiences who have paid heftily to get into theaters for 2-3 laughter moments. If this was not enough, his sister, Farah Khan, another disaster-producer is coming within few months with her next movie. BE READY TO VISIT HELL, GUYSSSS!!! I give this movie rating equivalent to the amount of jokes and laughter moments it has- 0.
Thanks.