1109th BLOG POST -->>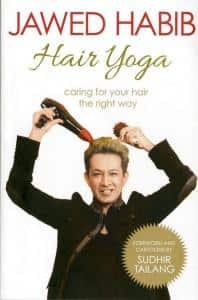 In India, revolution in many sectors have taken place in last two decades. Sanjeev Kapoor did it with cooking, Shiamak Dawar did it with dancing, Raju Shrivastava did it with comedy, Chetan Bhagat did it with writing and similarly, there is one man who needs no introduction- "Jawed Habib" who changed hair-styling in India with his revolutionary Xpreso- the 99-rupee haircut. He runs the most popular salon chains in India and institutes that develop great hairstylists. His company has 333 outlets and 47 academies in India. Can you believe what a single man has done on his level to introduce new ways of protecting hairs and maintaining them for lifetime? He has recently come out with his book- Hair Yoga. It's tag says,"caring for your hair the right way". The foreword and cartoons are done by Sudhir Tailang.
Hair Yoga is as important as having Sanjeev Kapoor's recipes book at your home. These days, every second person is found weeping over his falling hairs, baldness or dandruff. With this book, Jawed Habib have made sure that you do not need to ask any random person to help you with your hair. He starts with helping you find what type of hair you have. Once that is clarified, he helps you with what kind of oil should be preferred by you. Then he tells which shampoo suits you well. With all this, he also tells what kind of comb has to be used by you and what's the role of conditioner and dye in your life when you are done shampooing.
There are many myths that he has busted in each chapter which is a big eye-opener for naive people like us who end up treating our hair any way we are told by the previous generation or friends. In the end, Jawed has shared how to treat our hair according to different climates, problems and situations. That's when I felt that the book has finally got complete. In last few pages, he tells how to take care of an infant or school kid's hair as they get affected with lice very easily. Jawed Habib has left no stone unturned with his first book "Hair Yoga". I would love to see him writing more and more about this to assure that people do not get influenced by wrong people anymore. I give this book 3.5/5.
Thanks.