1065th BLOG POST -->>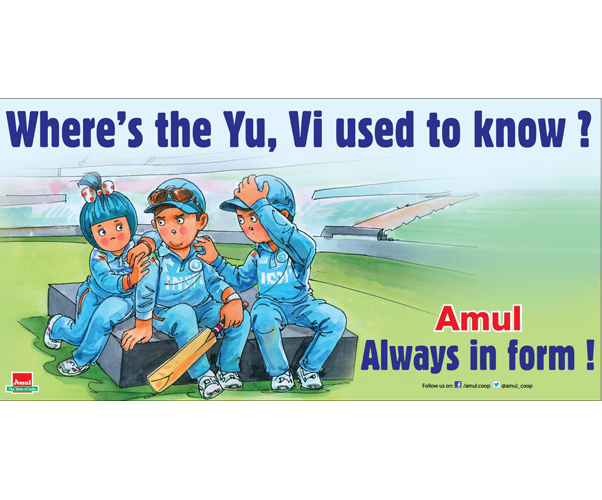 Finally, few of us have overcome the defeat of India at World Cup Finale. It was one of the wonderful tournaments for our country seeing the kind of defeats we have faced in recent years. Many of them being a clear white-wash. We won each and every game in the League matches. We defeated all the teams even when GROUP B was said to be comprised of champion countries. In Semi-Finals, we defeated South Africa wonderfully even when the target was very high. Virat Kohli and Suresh Raina did it for us along with Rohit Sharma and Ajinkya Rahane. What a wonderful time it has been for Indian Cricket team. We bowled perfectly in each and every matches showing that our bowlers have International talent its just that they lack confidence in few tournaments against overseas players. But what happened in Finals will always remain with us.
Even if someone would have seen only the Scorecard of the Finale match, he would have said that the reason of India's defeat is no one other than Yuvraj Singh. Leave aside we, the ones who saw the whole match ball by ball. Before match, people were expecting Virat Kohli to score big because he has been that player of the team and world who doesn't know getting out before doing something for the team. He played some very magical shots to score 77 runs but didn't get much of the strike in last 4 overs. If he would have got, he might have become another player to score century in the World T20. India was at 111 after 16 overs and still ended up making only 130 after 20 overs. Though Sri Lanka bowled well but that's not the only angle to it. Yuvraj Singh got out after scoring just 11 RUNS off 21 BALLS. This is below par performance considering even if it would have been scored in a 50-50 overs match. Isn't it?
Suddenly, the news came all over that Yuvraj's house has been pelted up with stones. No one tried to know the intensity of attack and suddenly the ones who were abusing him started acknowledging his feats of past. I am sure enough that it would have been just 1 guy throwing a small stone at his door out of which a sensational headline would have been created by this OPPORTUNISTIC MEDIA! Suddenly, all the former players as well as current slots like Harbhajan Singh and Gautam Gambhir came in support of him. Even Sachin Tendulkar, Sourav Ganguly and Kapil Dev talked how Yuvraj Singh should not be blamed for World Cup loss. Well, I support that stones shouldn't be pelted at his home nor should he be mobbed if he is out with his family or alone. But why shouldn't Yuvraj be blamed?
Well, I know how much he helped us in winning 2007 World Cup T20 and the most epic 2011 World Cup that we still feel proud of even after losing many series prior to that. He also helped us in winning many other important tournaments like Under-19 World Cup, Natwest Trophy etc. I also remember his era when he used to hit SIXES in almost every match and made our Indian middle order batting strongest of all time. We acknowledged and wrote very good things about him when he played perfect and made the matches go into India's pocket. I myself loved seeing him win 4 Man of the Match in 2011's World Cup. But does that give him the immunity of not getting scolded, criticized and blamed for the World Cup Loss that could have been easily in our hands again?
Many say that it was just a bad day for Yuvraj and we should forgive him for that. Really? Can someone tell me the role of him in this World Cup Tournament? Leave that knock against Australia because by then we had already qualified for Semi-finals. Except this innings, if I'll ask you to keep going back and remembering when he played a match winning knock, you will find hard even to name one. So that was clearly not one day that went bad for him. He has actually been useless for team from a long time. He has lost that magic he used to have in him. If you will say that my post looks as if I have found a new punching bag after Tendulkar have retired, then take it as that. But Yuvraj Singh seriously needs a break until he does not get ready to start hitting right from the 1st ball as Raina and Dhoni do. You are middle-order batsman and you should know that you don't have time to set in and play. Yuvraj, do you remember how Raina played in Semi-Finals? If he would have done the same that you did in Finale, we would have gone back then and there.
Sri Lanka's captain sat outside himself as he felt he was out of touch. Yuvraj could have also done something like this after observing his fitness and Cricket. Yes, we respect you for fighting cancer and coming back into Cricket with a double century in domestic Cricket and other few fine knocks. But that again does not qualify you not to be blamed for the loss. If we had celebrated all those innings of yours that made us the winner, we will also accuse you for this loss shamelessly. Because its not us who should be ashamed of what we are doing but you. Every child experiences this since childhood. The semester in which he scores good percentage and rank, his parents tell how good the child is to everyone in society. As soon as they find in scoring a lower rank or percentage in next semester, they thrash him, blame him, restricts him from fun and criticizes his every move in front of the guests at home.
That's what Life and a Sport is. For one bad inning, you would have seen many Cricketers playing their last International match. Going even by that scale, you got quite a chances to come back. After 10 balls, if you would have got out yourself seeing that you are out of touch, it would have been beneficial for the team even after a wicket loss. That's the only reason why Indian audience clapped when your catch was been taken by the SriLankan fielder. You could have at least rotated the strike if you found it harder to make the ball touch boundary line. Kohli would have scored the runs of your part too. But seeing you on the ground struggling and making our hope dwindling, you have hurt the feeling of all those fans who see Cricket as religion. And yes, there's no one who can ask us not to look at Cricket with such passion. Understand?
Thanks.