1073rd BLOG POST -->>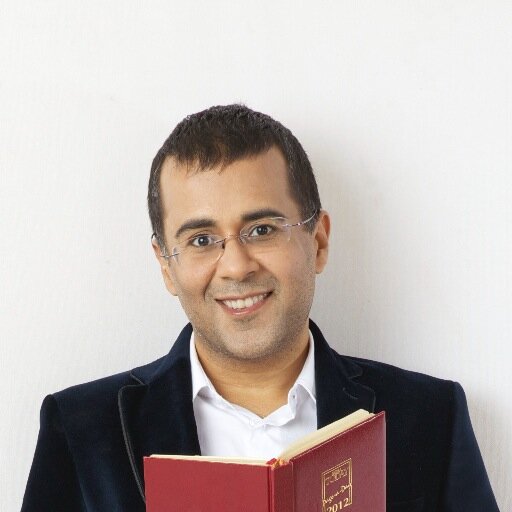 Chetan Bhagat is celebrating his birthday today. As I had promised him, I am writing this post about him and his life. I have seen many people trolling him on Twitter and calling his books toilet papers and his readers, card board cut-outs. He participated in a reality show where he met one of his haters, even she raised these points in her opinion. Similarly, he met the person running his parody account (on Twitter) at his home 2 years ago, even he was mentioning some spelling mistakes in his book to which CB replied,"You find just one spelling mistake in 5 lakh words that I have written and you target me for this silly thing?" Chetan Bhagat has been the man who have brought the revolution in Indian publishing and writing. He wrote a book for laymen because of which publishers got interested in publishing such books and some not-so-deserving writers also got published by copying his style. But, now, as even they have got "Bestseller" tag, they find it quite intellectual by questioning Chetan Bhagat's books.
Chetan Bhagat was a very average student in his school days resulting to which he scored 76% in his 10th board exams. He had very nice connection with his mother's sister i.e. his Mausi. He discussed with her his family issues. His mausi asked him to prepare for IITs if he wants to go away from his house and the loud fights between his parents. His father was a retired Army officer and he used to show his strictness at his mother and him. Chetan never liked this atmosphere and therefore, he started studying seriously and got selected to IIT. He found it very hard but still completed it with mediocre grades. By the time, he was still in IIT, he understood that he is good at communicating with people and hence he decided that he will do something related to it than Mechanical engineering that he was currently experiencing. And therefore he joined IIM-A for MBA. He was been awarded as the "Best Student" for the project he submitted in his last semester.
Chetan Bhagat, then, struggled with his job and then with his inter-caste marriage. In Hong-Kong, where he worked/earned for 11 years, he wrote 3 books along with his career. He even struggled with publishing his first book. He got rejected 9 times and finally, he got a positive nod by Rupa publication in his 10th attempt. But he didn't leave his job because he wanted to confirm if readers are really interested in reading him again and again. With his 3 books, he finally got that confidence. After his 2nd book's criticism, The Times of India wrote that Chetan Bhagat was just one book wonder and now he should quit writing. Today, Chetan Bhagat is weekly columnist for the same newspaper which wrote him off few years ago. :-)
In India, once upon a time, "5000 copies sold" used to be synonymous with the word "Bestseller". Then the bar raised to 10,000 and now some publishers tag an author bestseller only after 20,000 copies are sold. Chetan Bhagat's last fiction book-"Revolution 2020" sold 5 Lakh copies on the first day of release itself. Flipkart, for the first time, had to hire 700 boys to deliver all the pre-ordered books on the first day itself. In 100 days, 10,00,000 copies got sold of the same book. Five Point Someone and 2 States are said to have been read by 2 crore readers. Imagine what will you call a writer who sells 1000 times than the Bestseller mark while other writers struggle to even touch that. That's Chetan Bhagat!
Even today, in his columns and tweets, he speaks about politics and how few problems of the nation can be dealt with even at personal level. He even wrote a book "What Young India Wants?" to make us understand the problems of our nation and how they can be resolved. People make fun of his columns because they find it hard to believe a Fiction love-story writer writing on how nation can be developed. But isn't it the job of each of us to analysis, read and then inform others about the probable options of improving our conditions? He's doing the same. 4 out of 5 books written by him has been adapted into movies while the 5th one is in casting process. No other writer has been so favorite to Bollywood than him. Narendra Modi wishes him birthday over Twitter by sharing an image where they are together in a selfie mode. He has been judge at many events including Miss India contest. He has hosted a TV show recently- 7RCR. He has been brand ambassador of a mobile phone company and Shaadi.com. Does a normal boy go at such heights just by writing novels? Chetan Bhagat has made it possible and turned even non-writers into aspiring one and to some, even Bestselling authors. Haha! I wish him a very happy birthday and I hope he keeps on stunning his haters by touching such impossible landmarks. :-)
Thanks a lot.