658th BLOG POST -->>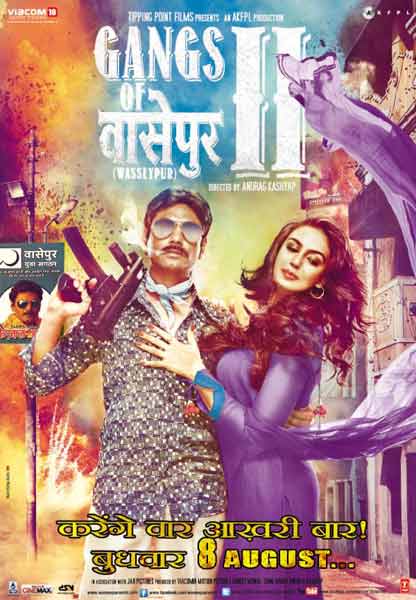 Finally, I am done with Gangs of Wasseypur 2. After watching Gangs of Wasseypur, it was obvious that I am not going to miss this one. I was too worried to know that the second part is releasing on 8th August when Ek Tha Tiger is being declared for 15th August. And the result at the box office has been below par because of this. People are busy in advance booking of Ek Tha Tiger than concentrating on GOW 2. And once EK Tha Tiger will release, GOW 2 will be removed from all the screens. Anurag Kashyap could have done something better than releasing it on 8th August. At least this shows that Anurag Kashyap is a great director and story-teller but not a marketer. :-)
Gangs of Wasseypur 2 is a perfect sequel. It is made in the similar context to its first part but differs too. It has action scenes, abusive dialogues, too much gun-firings, police, revenge, plotting, beating, hiding, conspiracies but still it is very different from its first part. In the first part, all the attention was given on how Manoj Bajpayee's character takes revenge against everyone but ends up getting killed by his foe. Here, Nawazuddin Siddiqui takes the lead role. He enters as the last generation of the KHAN family. His mother blames him for being ineffective. Asks him to take revenge against those who killed his grandfather, father and even brother. Faisal Khan(Nawazuddin Siddiqui) takes time to find out the revolutionary within him. :-) But once he gets settled in the same world to which his father belonged, the real fun of the movie starts with a bang.
The best part of the movie is that they have kept it focused on its subject. They have not added many elements unnecessarily just because the first part had too many of it. Part 1 required many elements but this one needed exactly the amount that is being shown. The humour quotient is less but action scenes and uniqueness of each and every character gives you a sense of achievement while sitting in the theater. You get the feel that your paisa is not just going to be vasooled but you'll get double mazaa. :-) The camera work is perfect. The locations that are shown is unseen. Nothing nonsense is inserted which might become hard for viewers to digest. Songs running in the background with the story of the movie gives an extra-ordinary feel to the movie. Background score is as beautiful as it was in the first part. The background score during the climax is something that urged me to get disappointed that why is movie ending so early, even after sitting for 160 minutes. :-)
The only drawback in the movie has been the stretching of some unwanted scenes. Else, if you loved PART 1, definitely go for this one. And even if you have missed Part 1, you can directly watch this. There is no such problem of not understanding this one. Nawazuddin Siddiqui has definitely played 1970s Amitabh Bachchan kind of a role perfectly. After moving out of the theater, you want to walk and talk like him. :-) Huma Qureshi is too beautiful to control. I did see some men losing control in the theater while watching her. :-) Richa Chadda, Pankaj Tripathi, R.K. Yadav, Reema Sen, Piyush Mishra are perfect in their job. Else, Zeishan Quadri and Tigmanshu Dhulia are too brilliant. And I missed Manoj Bajpai's first part's chichorapann a lot as Nawazuddin Siddiqui's role is too stylish to do anything of that sort. :-)
In the end, they show a little boy of Faisal Khan(Nawazuddin Siddiqui). I am expecting Gangs of Wasseypur 3 now. Are you listening, Anurag Kashyap? :-) Pehla bhaag dekhne k baad maine kaha tha k meri keh ke le li aur main apni fir dene jaunga. Main fir de aaya hun aur ek baar aur dene k liye taiyaar hun. :-)
Thanks.
ABHILASH RUHELA - VEERU