396TH BLOG -->>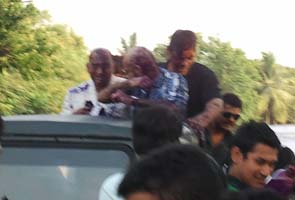 I read the Hindustan Times paper of Saturday and didn't found the news I wanted to read in detail. I turned on the news channel but still the news was no where on my TV Screen. At last I searched the Internet and found some articles related to it. I don't know how people ignore such great news which can give them numerous TRPs and bring them to the top. Everyone of us know about the television reality show - MTV Roadies on MTV. The show is doing a great job from last 8 years. The face of Roadies is Raghu Ram. A man with bald head, retro attitude, stylish beard, loud voice sit on a chair to take audition of youth struggling for fame and money in their life. The show came into light after its 5th version. Now, all the youth knew about Raghu, Rajiv, Rannvijay, Ashutosh, Sambhavi and many more small celebrities. The tag- Roadies became popular among youngsters and people started copying the show in their real life. For small reasons, they used to start arguing and fighting. The distance between boys and girls reduced and they started hanging out together. In precise, we can say that a modernization took place in the middle group age of India because of this show.
Even the people watching the show on their television sets started fearing the man - Raghu. Raghu always thrashed the contestant with abuses for their obscene thoughts and useless attitudes. He abused those who abused the girls. He brought down the level of boys who thought that girls are meant for sex and nothing else. Raghu became an inspiration for other channels and and all the channels came up with some or the other shows with a weird guy sitting for thrashing youths with abuses and sometimes even beat them. Now, in today's date, you will find such shows on every channel.
I always thought one thing whenever I used to see Raghu and Rajiv thrashing the boys with huge bodies and tough attitude that why don't these guys beat them back after they abuse them in the show? Why is Raghu never attacked on the road when he is without his MTV security or in a mall where there's no one who is caring about Raghu's safety. Finally, yesterday, I got to know that Raghu, Rajiv and Rannvijay were caught by a group of people who belonged to a political party and their faces was blackened. Actually, we can't say that the faces of the trio was blackened, these activists of Akhil Bharatiya Vidhyarthi Parishad(ABVP) just flied some ink on them. They came in a group of 15 including 5 girls. They chased the vehicle of the trio on which they were in Pune for a promotional event. They hurled them out of Pune and warned them not to enter again in this cultural city.
Now, this news has not gained the momentum still but I am sure that we will get to hear mix responses. Many will say that the ABVP were genuine and this was awaited from a long time while others will say that the trio suffered without any reason. Even I'm riddling whether this was a right thing to do or not. I sincerely believe that if you don't like anything just don't follow it. I never watch Splitsvilla because I can't bear it. I watch Bigg Boss and I never complain about the format of the show and any content they show on the television. If these activists have problem with the show and they felt the presence of these celebrities in Pune as a black spot on their cultural city, they should ban MTV every time this show is telecommuted. Why should you perform such activity which is a sort of violence. Recently Anna Hazare showed us the effect of non-violence and this party showed us the exact opposite side of Hazare. You could have done this with a silent process to prove that the strategy of your party is unique.
Raghu reacted after the incident that I would have reacted if the fight would have been 1-to-1 but they came in mob to achieve some kind of publicity and they got it too as Roadies have already become a big name to give anyone a huge publicity. Rajiv said that I and Raghu were joking about the incident after returning back. He also said that I and Raghu have seen much worst time than this so it doesn't effect us. I believe in what this twin brothers said. When I publish a controversial blog against a political party, my friends fear that something may take place in my life which shouldn't. So, if someone is speaking something on National television, they would have seen bad experiences in their life that they are ready for more. A show like Roadies cannot be initiated if there's lack of guts and courage to deal with today's youngsters and nation's politics.
Raghu also said that I don't understand their problem as there's no abuse on the show. What's their problem - a BEEP sound? He is exactly right. Whenever I turn on my television to see Roadies, my mother complains to my father that this show contains bad words and abuses but this boy loves watching it. I defend myself by saying "Dad, if you'll hear even a single bad word today, I am ready to lock this channel from my Television set." My mother gets frustrated after this because she know that there is not even a single abuse which can be heard.
I would have declared this party as a winner if Raghu and Rajiv's attitude would have been effected but currently it can be seen that Raghu and Rajiv are talking about this issue with their head high in public and even I feel that no harm has been done on the characters and image of these guys. Tomorrow, if I'll walk on the road after being successful and some group comes and thrash me, it will not be said that I'm thrashed but if a single boy comes and hit me for the statement I said in past and I don't react to it, it can be called my cowardliness. But for now, Raghu, Rajiv and Rannvijay are the winners as they have taken this positively and the second reason because the approach of the party members was the same as the other local parties who are being criticized every time they adopt this way of protest and revolution.
Thanks.
ABHILASH RUHELA - VEERU