1605th BLOG POST -->>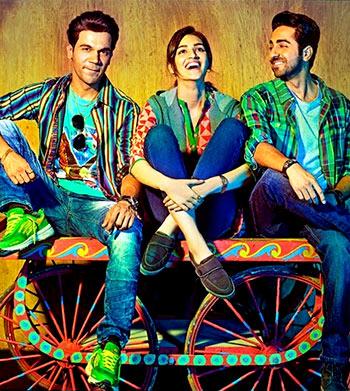 Bollywood has been making so many love stories but almost all the movies get bashed up by the viewers because everything they display is too rich, fake and hard to connect with. Out of the blues come this movie named "Bareilly Ki Barfi" which ultimately makes us meet with the characters who are exactly like us or the people we live around with. You connect with the movie from the very first scene itself. The movie is about how a girl reads a book and finds the protagonist of the book almost like her. She quests to meet the author of the book and thus contacts the printing press owner- Ayushmann Khurana. Though he has himself written the book, but he publishes the book with the name of Rajkumar Rao because of some reasons. Now, although he is in love with Kriti Sanon, he makes her meet Rajkumar Rao and tries everything to assure that she hates him in the 1st look itself and then he conquers her heart.
The movie starts slowly but conquers you well just after 15 minutes of it. Kriti Sanon as Bitti makes you curious to watch what all she will do throughout the movie being enthusiastic being a small town girl. Ayushmann Khurana is as always funny and natural in his acting and does wonderfully well than his previous movies. The way he has managed to convey emotions through his face this time speaks a lot about his improvement as an actor. The magic of the movie is none other than Rajkumar Rao. His acting skills can be easily measured in both of his performances- as a shy and introvert boy and the fake aggressive one.
The story of the movie is very sweet and the simple narrative makes it touch your heart. The scenes of the small town makes you feel that the story is playing just in the backyard of your house. The punch lines and the funny scenes make this movie an entertainer for the audiences. There are many heart-warming scenes too. The love displayed in the movie is handled so beautifully that you start believing in love stories again after the damage that the movies like Raabta, Befikre etc has done. The songs in the movie are okay. My favorite is Nazm Nazm. The dialogues are wonderful. Overall, this movie is surely one-time watch if not twice. I give it 3 stars out of 5. A real love story after a long time!