1248th BLOG POST -->>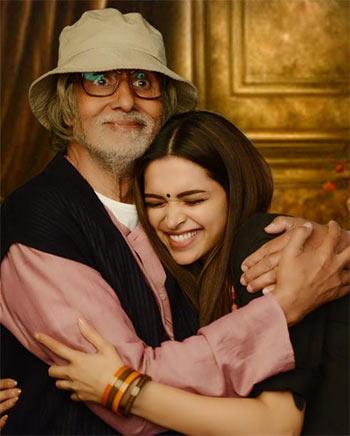 Seriously speaking, when I saw Piku's trailer for the first time, I wasn't very interested in the movie and considered it boring then and there itself. But now after watching the same, I am in awe of it and can watch it as many time as you ask me to. This is easily one of the best, finest and recommendable movies of 2015. The greatness of Piku is that it does not have any story as such but still it manages to entertain you in each and every frame. It seems as if cameras are installed in a house where 70 years old father is suffering with the problem of constipation while his 30 years old daughter have decided to take his care even if it becomes super-irritating at times. Then enters Irrfan Khan, as a cab driver, who finds this family very vague and different and could not understand why the daughter takes so much of pain and why couldn't she get married. On a journey from Delhi to Kolkata in cab, Irrfan becomes an internal part of this movie and fills up it with more humor actually dry humour what he is famous for.
Shoojit Sircar is definitely one of the directors I am going to look forward after watching two of his movies, Vicky Donor and now this. I am very soon going to get Madras Cafe and watch it soon. What I liked most about him is how he have developed the characters in the movie and assured that we can easily related with them. Seeing the character of Piku played by Deepika Padukone you can easily identify any of your friends in 30s who discusses his parent's illness with you and how they throw tantrums sometimes. Amitabh Bachchan's character of Bhaskor Banerjee is the best that he have created. Every sentence spoken by him is a punch and makes sure that you never get bored of him even when you want to hit him sometimes for the extra trouble he brings into the life of her daughter, Piku. And similarly bringing a character of a cab driver so perfectly and finely in the movie is another superb work by the director.
Every dialogue spoken by these characters aren't filmy but you will feel as if someone from your neighbour is speaking the same. That's what keeps this movie realistic, sweet and interesting. Shoojit Sircar is a clear winner here.
The screenplay of the movie is perfect. You can easily hold yourself for all the minutes this movie runs on the screen. There is not much of background music here but whatever there is, it is definitely suitable. The aesthetic value of Kolkata and Delhi are beautifully represented. The climax is perfectly done and nothing filmy is inserted to make it look like a typical commercial movie. There are few scenes which will definitely make you fall from your seat laughing out loudly. Bezubaan is the best song which you will come out humming and singing. Definitely will stay in your playlist for a long time.
Now, coming to the performances. When you have actors like Amitabh Bachchan, Deepika Padukone and Irrfan Khan in your movie, what marks will you give to the performance factor? 80%, 90% or 100%? I give it 5000%. Each of them have played their character so perfectly and that's the only reason why Piku looks so strong as a film. Deepika's expressions itself speaks a lot. She doesn't need to even utter a word to make you understand what she's feeling. Amitabh Bachchan's comic timing and humour quotient is so strong that he almost carries 75% of the movie on his shoulders easily. He is the one whom you'll want to see on the screen every time irrespective of the irritating character that he plays. And Irrfan Khan- with his dry humor and speaking eyes and weird body language again fills this movie with whatever it needed to become a little more special than what it actually was. I wish that each of them gets some reward/award for their work here. I give this movie 4 stars out of 5. Please GO FOR IT! Perfect family movie! And yes, Deepika didn't share a smooch with anyone so you can understand how story-oriented this movie is! :-)
Thanks.
ABHILASH RUHELA - VEERU!!!