1208th BLOG POST -->>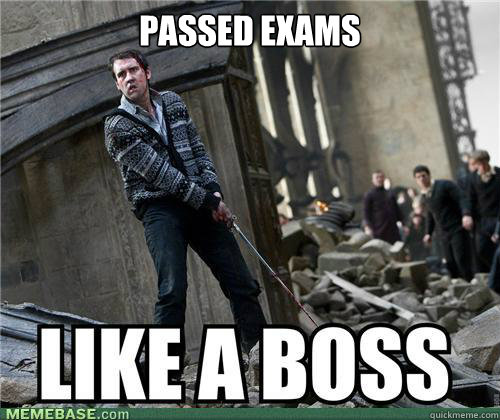 Education to me have always been like an added pressure in life. Haha! Well, for most of us. Very few of us really study like it's our world and we will do it passionately for as many years as we are into education. I remember my state till 12th std. I just didn't like studying because of which my friend and I would always plan of doing something that's apart from studies and getting rich. We wanted to prove the world that there's world and life beyond education and studies. But since I took admission in MCA, it happened to be a promise I made to myself that I will never let my studies be a secondary task in my routine. Let my reading, blogging, writing, earning get affected but I won't take my Post Graduation lightly as I never scored above 66% in my 10th, 12th and considering all the semesters of Graduation. If graduation marks aggregated, then I never scored above 61% which is my score in 10th.
Even idiots have scored in 70s in their 10th std. Somewhere I always took studies lightly whenever it mattered. It hurt the most when I missed being first class in Graduation even after scoring 60% in 3 semesters. That's how badly I performed in other 3 semesters of it. Therefore, the day I got admission in my aspired college for PG course, I changed my gear and thought of only performing in every semester. I knew that passing every semester without any backlog would be a big challenge but somewhere I got ready to bear anything for it. I never studied this much ever except in the last stages of 12th. And hopefully, the results are positive and something even I didn't expect. I had predicted that just like BCA, I would be scoring 60% in first 2 or 3 semesters and then the interest and grip would loosen and I'll have to fight again for touching the mark of 60%.
Fortunately and luckily, I have consistently scored between 63% and 70% in the 5 semesters till now. 70% being my percentage of the 5th semester which got announced recently. What more could have I asked from myself? In the last stage of my education, I gave my best performance since 10th std. That too in a course like MCA which is full of theory, practicals, technicalities and TORTURE. But I have believed that if you promise yourself a commitment, not even God can fail you. Even if every odds are against you, you will bounce higher than before. Somewhere I am satisfied with myself so much that I might update on Facebook any time soon that I'm in relationship with myself. Haha!
I have been someone who can't share his bedroom, home, time, space with anyone for more than 6-8 hours. But keeping studies and my target in mind, I studied with my friends for 2-3 days and nights incessantly so that we do not miss out anything. I started publishing my personal notes online on MCA forums so that other students can also benefit from my efforts. That was the passion behind something which I saw in myself for the first time except blogging. Today, when I find myself in few students who have passed PG without any KTs and back logs, I feel so good about myself that I wish to live these 3 years back yet again.
I would specially like to thank Mr. Vaidya for taking wonderful classes of the subjects that could surely block someone's dream of achieving MCA degree in the time frame of 3 years. :-) The way he taught me mathematics in 2 semesters gave me an ultimate confidence throughout the semesters. I would also like to thank my friends who have stayed with me whenever I needed any help from them at any point of time. I am not wanting to name them today as it has been kept for the final day when I shall be holding degree. :-) 6th semester is another challenge as a live project has to be created by me and a research paper has to be submitted too. Let's see what next 3 months have in store for me. May God Bless Me! Please remember me in your prayers and wish me luck for future like always. Thanks readers!