1227th BLOG POST -->>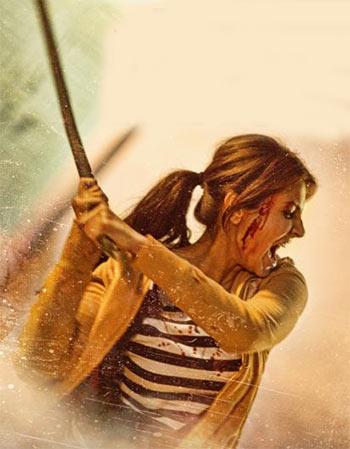 I had heard a lot about NH 10 even before it released. Finally, I joined this popular road trip yesterday and to my surprise, I liked this movie even when it doesn't belong to my favorite genre. NH 10 tells us about few villages and areas in our country which are still out of any law where women are treated just like an object, human lives have no value, khap panchayats are the boss, police stations are of no use and even women believes to treat its next generation's females as a punching bag. Both the protagonists get trapped in this village and they have only two options left- either fight or flee. They chose to fly away but when they find themselves trapped, they decide to fight against the goons. And the movie doesn't bore you even once in this competition of ego vs survival.
Navdeep Singh, the director, ensures that he doesn't drive on the conventional way and make a journey that's fresh and thrilling. He doesn't allow his audience to blink even once from the first scene to the last. Even the scenes that are less relevant in the first 20 minutes are beautifully made which sets the right tone for rest of the movie that's based on the theme of road trip. The characters of protagonist and villain are well developed which makes us understand why villain is so scary and protagonists so scared and frightened. And the way climax is shot is one of the best scenes of this film. Director needs to be applauded for every scene which makes you bite your nails or close your eyes in fear, screenplay, story and camera work.
Coming to the actors, Anushka Sharma has once again stolen the show. Initially, in her corporate style, she manages to fit in the role. Then as a supportive wife, she plays a very well-tone performance. And as a fighter in rest of the movie, the way she emotes her helplessness and desire to save her husband and herself, is beyond excellent. The way she handles the climax all on her shoulder tells how wonderful as an actress she is. Her body language throughout the movie has been attractive and something that holds you. Kudos! Neil Bhoopalam brings charm with his acting and manages to play a good supporting actor to Anushka. His role is most important in the initial parts of the movie and he manages it quite well. And talking about the villain, Darshan Kumar, he has proved his versatility in this movie where he plays a tough Haryanwi whereas we saw him in a very soft role in Mary Kom. He is surprise package of this film. All the other actors are also fine in their role.
Summarily, NH 10 is one of the top movies based on road trip in our Bollywood. It's definitely worth watching in theater. I am happy that a good movie on such a plot has been released and proved that our writers and makers can amaze us if they really have a will to provide us with something new. I give the movie 3.5 stars out of 5. Worth-watching. Do not miss!
Thanks.
ABHILASH RUHELA - VEERU!!!