761st BLOG POST -->>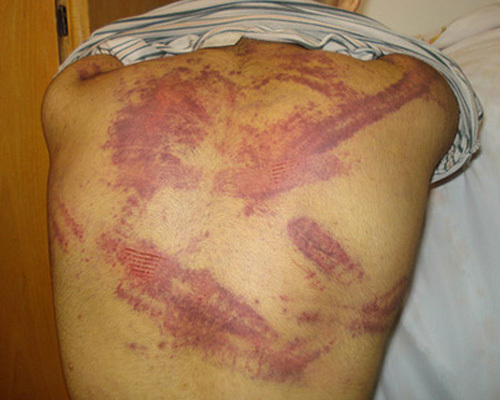 The Delhi Rape victim dies and the affect that she has left with all of us is so emotional that we are unable to concentrate on anything else except the plight that she has gone through. Recently, I went to hospital for some treatment. While I was being operated, doctor asked me to relax. I wasn't scared but later, I remembered all the days I kept on thinking about this girl by imagining her in a hospital fighting for life. Suddenly, my body froze and I was unable to relax myself. Later, when doctor ended with her operation and asked me to get up, I was unable to get because of the thunder that my body went through, not because of the operation but because of the moments I lived in all those minutes. I kept on thinking if this little pain can make me shiver, what amount of pain that girl would have gone through in the hospital. Finally, I talked to Doctor and told why I went into that state and she supported me. She said that even she is going through the same trauma while operating every patient. This is what the Delhi rape victim has left us with.
I don't know whether what I am about to talk now should be talked in public medium or is meant to be kept in heart but as I have never feared from posting anything that I truly feel, I will post even this. Today, we are giving importance to this rape case. It's okay. It's fine. It's needful at this moment. Every victim should get the same treatment from Indians/media in this country though this is not the case. As the victim is a girl, everyone wants to pay special attention to the case. This is where the whole problem lies. Even on Twitter and Facebook, every girl is easily updating "Men will be men" "All men are dogs" "Men are rapists" etc. When we type cast all of you in the same category, how bad do you feel? How can you type cast all the men as rapist just because you have got a chance to do this? When a boy is victim, does the whole nation ever outrage? It happens very rare. And in the language of our Home Minister, this does not happen even in the rarest of the rarest of the rare case.
Everyone forgot the friend of the victim till he didn't come on Zee News last night. No one is trying to understand what he went through. The victim has died but this boy can never live his life as peacefully as ever. Even he was thrashed badly with the iron rod and even after getting thrashed and his leg fractured, he remained at Police station for 4 nights. But, is anyone sympathetic towards him? There are so many boys whom girls have left to be tortured and beaten by falsely claiming to their brothers that they weren't behind the boy instead the boy was following them from days and forced them to get into relationship. Later, these spineless brothers thrash and beat the boys pitilessly without hearing any mercy or request. Some times, they end up killing these boys. These are the same girls who are trying to show that they are the only victim in this country and all men are culprits.
Not only physical torture but mental torture also has the same heinous affect on a soul. When a girl commits suicide because of being a victim of rape, she gets all the sympathy she needs because she's a girl and we pray Goddesses like Laxmi, Durga, Saraswati etc. But when a boy commits suicide because of the mental torture and harassment a girl does with him by breaking off a relationship that she kept on promising from a long time and later blackmailing him to stop calling her else she will file a case against him that she is been troubled by him, no one thinks about this boy and vociferate that the guy was a loser. Don't we pray Male Gods? In fact, every religion prays Male God. I am NOT trying to be a gender bias here but I am trying to tell the injustice that happens with boys when girls are showcased as victims.
Today, every time when it is spoken that give the girls a spray or something so that they can fight against the rapists, I want to break the face of these people. How genuine are girls? Didn't you hear the case where the girlfriend slaughtered her ex-boyfriend's body in 300 pieces? Every girl will easily get rid from their ex-boyfriends by spraying this ingredient and claiming that he was trying to rape her. You ask every rapist to get hanged through a fast track court. Are you silly? Will not any girl file a case against their ex-boyfriends that he/they tried to rape/molest her? Every time a couple will have sex a night before and next day, if there would be break off or something, girl will directly go to police station to file a case that she was been raped last night. Who'll show sympathy for all such boys? I know none of us because we like supporting hot topics rather than any. Only rarest of the rare cases will get treatment in the fast-track court- This is the statement by our Government. Even they like to give priority to the cases where a girl would not only be raped, but killed brutally as this Delhi victim.

My sincere request to all of you is that please don't get carried away by the sensationalism that is been created everywhere around. Please don't get too much sympathetic towards girls. Boys face almost the same kind of plight. Not only girls, but even boys are made to have sex with gays during the process of Casting couch. But the world talks only about the girls going through it but no one thinks about these boys. Even we feel pain. When a girl gets raped, ask her father, brother, friends and male relatives about what they are going through. It has been a long time since everyone is blaming one gender for what is happening with another. You saw the gender that raped, but you never saw the gender who was with girl throughout and was trying to save her. Why? Because then boys, as a whole, could not be blamed. Please don't get carried away. Understand the situation. Understand that boys aren't animal. Please. Or are you trying to say that the friend of the girl isn't given much attention because the rapists didn't insert anything in his organ? With boys, the most brutality that one does is to thrash him like anything. Not every girl around you is raped but girls, go ask your girl friends, 70% of them will say that they made their ex-boyfriend beaten up by their current boyfriend/friend/brother. And how many times have the public stopped to save a boy been beaten up on road by the cluster of boys? Understand. That's all.

P.S.: I didn't want to start the New Year with such kind of a post but it was high time since I was seeing such treatment with boys. Come on, all boys aren't rapist in the same way as you girls say that all girls are not like bitches to play with boys' emotions. So, support our cases too.

Thanks.

ABHILASH RUHELA - VEERU