1126th BLOG POST -->>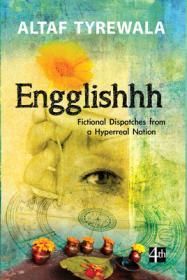 When HarperCollins releases a 211-pages hardcover book costing Rs 450 with a title such as "Engglishhh", you presume that the book would be surely a modern classic or something so epic that it would be remembered for a long time. After reading the book now, I can say that I enjoyed the short stories based on characters based in different class, cities, situations, circumstances etc. The tagline of the book says :Fictional Dispatches from a Hyperreal Nation". Author of the book is Altaf Tyrewala who's critically acclaimed and respected for his previous works.
Altaf has a very good writing skill that hooks you to a story even when it's of just 10 pages. The way he explains and introduces his characters are enough to impress you. I did find problem in getting used to his style in the first two stories- New and Second-hand and Engglishhh. But after I completed reading the whole book, I read them again and got the essence of it. For me, the real fun of the book started from "Nice Water"- a story that tells an autobiographical description of a maid. Few portions surely makes you emotional and some scenes are too hard to digest but that's the fact with which Altaf is trying to make us aware of.
On the same lines, all the stories are written depicting some or the other crisis in someone's life. The Watchman is a funny story where a watchman on the basis of few past experiences predicts that someone is going to die in the society and the laughter moments are created throughout the story. Thirteenth Floor is again another story with which I related. The greatest surprise came when MmYum's began. It's the longest story covering almost 40% of the book divided into sub-plots. That can be said as one of the best works of Altaf Tyrewala. And the book ends with a wonderful chapter that makes you giggle. It makes fun of Literature fests and authors. Something only an author who have experienced it himself could have written.
I just feel that the book does not deserve to be priced at Rs. 450. Rs. 250 could have been fine because very few people would like to read an anthology by spending such a huge amount. Also a Paperback version should be released. That's all.
Thanks.