889th BLOG POST -->>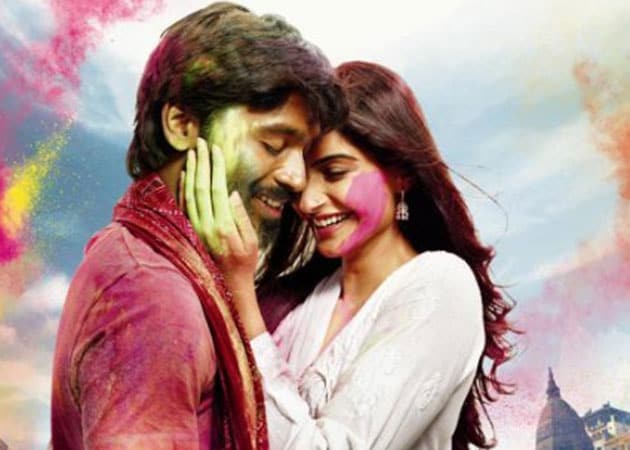 I am done watching Raanjhanaa, a movie starring Dhanush, Sonam Kapoor and Abhay Deol today after almost 3 weeks of its release. I had no charm towards this movie but after I came to know that it has earned 52 crores and my mother kept on insisting me for the movie, I finally found myself in theater today. :-) Film is being directed by Anand L. Rai who has directed only one movie before this- Tanu Weds Manu. I liked that movie very much and I found that even this movie is directed quite in the same manner. The writer of the movie is Himanshu Sharma who has also worked only once before in Tanu Weds Manu. Talking about his writing, I must say this movie has much ingredient in comparison to his debut work. Film is produced by Krishika Lulla about whom I have no idea about.
Talking about the movie, I would say its a good attempt but it couldn't touch my heart. What kept irritating me was the way women were being treated in the first half. They were stalked. They were beaten. They were being touched by lead actors as an object. They were man-handled. They were replied vulgarly. E.g. There's a scene where Kundan says to Bindiya that his jean's chain is much stronger than her blouse's hook. Such parts in the movie are really ridiculous and shameful. I feel that they were just unwanted and director/writer should have tried to give the movie a very pure presentation in spite of it being based in Varanasi and Delhi where such things keep happening with girls. Because what the screen shows, people replicate them in real life. I also didn't like the part where Kundan keeps getting slaps by Zoya with no pity and feelings. It is as if director wants to show that one should love someone without any self-respect.
The musical start that the director has given to the movie is wonderful. The child who plays Dhanush's childhood is cute. He is a superstar, seriously. I liked him in Chillar Party and Bombay Talkies too. Later on, the funny dance movements of Dhanush is also fine. The best segment of the movie starts right from Abhay Deol's entry to his exit. The only thing that I will always remember about Raanjhanaa is Abhay Deol and his perfect performance. Even the shocking news that Dhanush gives about him at the time of his and Sonam Kapoor's marriage is commendable. Later on, when Dhanush reaches his home after realizing that he is late for his marriage is another scene that made me laugh. Another aspect that I would always remember about this movie is the acting, dialogue delivery and style of Swara Bhaskar as Bindiya and
Mohammed Zeeshan Ayyub as Murari. They made me laugh whenever they were on the screen. When Dhanush runs and vomits after seeing the demise of someone in the movie is so original and heart-wrecking. The best scene.
The 2nd part of the movie is bit dragged. I also hated director to continue with Dhanush's inclination towards Sonam K even when he promises her that he will never ever take his name and if he takes, he isn't child of just one father. Director/writer have, in short, just showed that boy has no self-respect, determination and seriousness in life. Even after he is Brahmin, he keeps on comparing girls with "kaali kuttiya" which hurts our ears so much. The climax is fine. In short, it made me feel that Sonam Kapoor's role was at least well justified. Dhanush's dialogue delivery is similar to the voices we hear in South Indian dubbed movies. Sonam Kapoor continues to irritate me with her acting though she has also improved a bit. Abhay Deol is rockstar. I have already talked about 2 supporting actor and actress who are 100% in the movie. Songs and music by A. R. Rehman are surely good to hear but does not have the same magic as he creates. In short, I would say that even if you miss this movie, you aren't missing anything. It's a movie made with no purpose.
Thanks.
ABHILASH RUHELA - VEERU!!!