894th BLOG POST -->>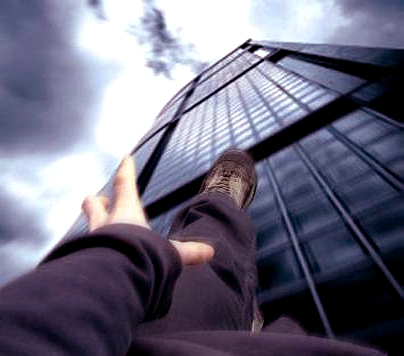 "Office was always beautiful. My parents kept saying me that no one among their contacts have as beautiful job as mine. They knew my hard work that I was putting in my job to get to the highest position that was always my dream since childhood- To be at the top when I would be working in some organization. I never wanted lots of money but I was passionate about a status, position and respect. Today when I move out of my office, and the way my colleagues and employees stand up to pay respect, I feel proud of what I have achieved. Now, when I read in newspapers that my organization is the least affected one even in recession and the reason is I, I kiss the newspaper. People sometimes see me doing that but I don't shy. I want them to believe that I am as much a person as them. I am not a celebrity nor am I some God's person that I have been blessed with multiple talents and skills. All is by hard-work which is possible even by them. It has been 5 years in this organization while I have lived for just 29 years on this planet. And I am already a CEO. :-)"
This was my diary entry some years ago. Now I would like to tell you what happened after it. Suddenly the newspaper had its headline that the youngest CEO of India is in love with a junior employee of his organization. Initially, I was angry and I wanted to sue the journalist for writing without any proof. But then I thought,"Is this news fake? Am I not in love with her? Have not we spend some moments that could be said as one of those which states that we are in relationship?" And answers to all of them have been a strict YES. But why was I hiding it from the media? The media knew that I always supported couples in my organization. Whenever any of the 2 partners used to meet me and ask to keep them in the same department or branch, I used to do it. Whenever a new employee was recruited and he/she used to recommend their partners and if they were of potential, I made them a part of my team. But then why was I hiding this?
Because Arti never wanted my name to get spoiled in the world that saw me as their inspiration. A magazine quoted that after Ratan Tata, people admire me the most when it comes to business and success-story. A huge responsibility on the shoulders. I never saw her as the junior employee of the organization, I always saw her as someone whom I love, someone for whom I could fight against world, someone who comes in my mind every time I see a historic place, a monument, a World Tour advertisement and a new movie trailer. I already plan the whole scenario of what it would be if both of us will spend some times together experiencing them. But she says No each time I ask her to comply with me and participate in love. She says that she isn't this deserving. I hate her for saying it but she never stops doing this.
Finally, one day, I insisted a lot and she got ready to marry. I was so scared about her decision getting changed that then and there, I drove for 5 minutes, reached the Lord Shiva temple near our place and got married. After the marriage, I bought her home and told my mother about the whole case. She was angry at first but within 8 hours she accepted her daughter-in-law and gave her all the jewelries that she kept designing and composing for her bahu. She also placed numerous sarees in front of her and said that she is accepted in the family. I called the media and in a press conference, I spoke proudly about my sudden marriage and my wife. Media for the first time behaved properly and respected my love and didn't bring useless factors in between while discussing our marriage. Later on, each and every employee of my organization was invited to the city's best restaurant and it is said to be the Grandest Wedding Treat in the history of the city.
After some days, after a very cozy moment, she started apologizing. I asked her not to but she kept crying. I asked her and she told me about the affair she had with one of her college mate and the extent to which both of them were into. I wasn't surprised as she always discussed about this with me even when I was the CEO of the company. And these were some of the reasons why I started falling for her. I loved the way she conducted herself in life. Though she was affected with so many things around, she knew that she had to perform good at work and at home, for her family. But even after I accepted her past, she kept crying. And then she said,"I still love him. I got a call yesterday and I want to go back to him." It was then that the earth shattered for me. I asked her why didn't she say it earlier. And she replied with a very calm tone,"I always said that I didn't deserve you. I didn't even say that I love you. It was you who kept insisting me to love you. May be you didn't know that one cannot enforce someone for love, only win someone."
In that moment, I realized that I was a loser. For the world, I was No.2 CEO in the current India that was falling apart. For the youth of my country, I was an inspiration. For the aspirants, I was a success story. For my mother, I was the perfect son. For my father, I was the most suitable successor he could have got. For my friends, I was the most respected person. But in my own world, for the person I love, I was just a stalker in the disguise of a gentleman. I can assure that she never did this to me for money or property that I owned. But it was actually me who kept insisting her to love. I asked her if she needed a divorce. I had no other option. She said,"Only if you promise that you won't hurt yourself." Even I wasn't aware of what the coming days had in destiny for me but I assured her. The next day, I took an immediate leave from the work and went on for the journey to leave her with the person she loved.
I saw them hugging each other. I saw the boy laughing at me. While I was leaving, she didn't even look back at me while her complete man called me by my first name and said,"Next time when you are in love, wait. Wait for the person to love you. Don't try to dominate the mind of the person. Because you can always dominate the mind but never the heart." This wasn't said in sympathy or as a friend but in a very demeaning gesture and accent full of sarcasm. I had nothing to say. It's obvious that he can never know but I knew that I had no strength and will to love anyone else again. He didn't know that the girl who had him in her heart is the one who'll always remain in my heart. He didn't know that he can never love her the way I do. He didn't know that all the moment he had with her can never match with what I would have given her. And she... She didn't know that my last breathe would be for her no matter how much my life would have been progressed by then.
It is 10 years since I saw her for the last time. Today, I opened my diary after seeing the news channels. Now they don't have me anymore in their headlines because I am no more the CEO of my company. I have no more targets to achieve in life. Because after achieving everything, I lost that one person misapprehending that I have won her. I have either lost a match or won it, but I have never lost anything after winning it. She was the only one. And as I lost her, I lost the life that I won in just 29 years of age. In the news, the headlines screamed,"The divorced wife of CEO Mr. Akhilesh Chauhan has filed a complaint against her present husband for physical abuse and violence". This is what she chose for herself. With it, she also chose the life that I had to live after her. I have nothing worst to see in life now. My parents are no more. I have no family as I never married. I could have never done justice with the girl whom i would have married again hence I took an oath of not marrying ever. I have no targets left to achieve as I have already won everything and lost in the race of life. Today, I quit. I quit with an expectation that in the heaven, I shall meet her once again. And if I am God's child as media and people kept saying some years ago, she would be mine in that parallel beautiful world.
*And he jumps off from his own Duplex that was his dream to own since he graduated. It stands at 61st Floor- the top floor of the tallest building of the city*
P.S.: It's a complete work of Fiction. A sad story indeed. But a good news too. Today, in the heaven, Mr. Akhilesh Chauhan and his love is together while her 2nd husband is burning in hell. :-)
Thanks.