1337th BLOG POST -->>
TALVAR: 3.5/5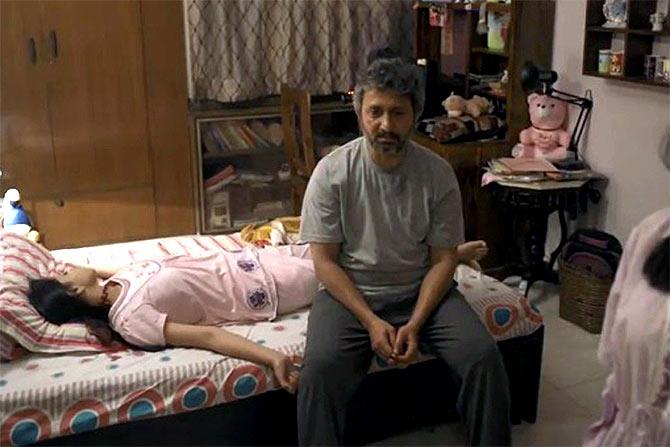 Talvar.... The another movie that I saw this weekend. The fact that it's inspired by the Aarushi Talwar case which is also known as "Noida Double Murder case" and the presence of Irrfan Khan ensured that I was curious to watch the take on the murder case by Meghna Gulzar, the director of this movie. She is known for making fun movies and this was a surprise and also her return after a long period of time. I am happy to say that she have passed successfully in this difficult task that she had selected for herself and gives a wonderful unbiased point of view on how the case got manipulated and the blame was put on the parents carelessly. Right from the first scene to the last, the film keeps you intrigued and makes you understand different perspective of how many different people can be behind the murder case.
The script of the movie is so powerful that it does not allow you to blink even once. Even in the interval, you will end up discussing about the different probabilities in the case. The first half discusses about what the case is actually about and how police handled it with carelessness. The second half is about how CBI gets the case and they find few links which tells them that there is more to it than simply parents killing their daughter. And it is since Irrfan Khan's entry as the officer-in-charge from CBI that the film picks up wonderfully. Director haven't overdone anything but kept it very quiet and simple rather than confusing the audience with too many twists and turns and flashbacks and flashy images. Generally, Bollywood directors have this method of twisting the script so much that a simple and good movie becomes a hell to understand.
Every actor have performed wonderfully right from Irrfan Khan to Konkana Sen to the person playing girl's father. Even the policeman who carelessly handles the case has also given a wonderful performance. The last scene where both the parties sit and discusses the case is one of the best scenes in Hindi film industry. The way the whole scene is handled makes you fall in love with the movie and the director. This movie seriously deserves to be watched. I give it nothing but 3.5 stars out of 5. One of the best movies this year.
Thanks.
ABHILASH RUHELA - VEERU!!!