1054th BLOG POST -->>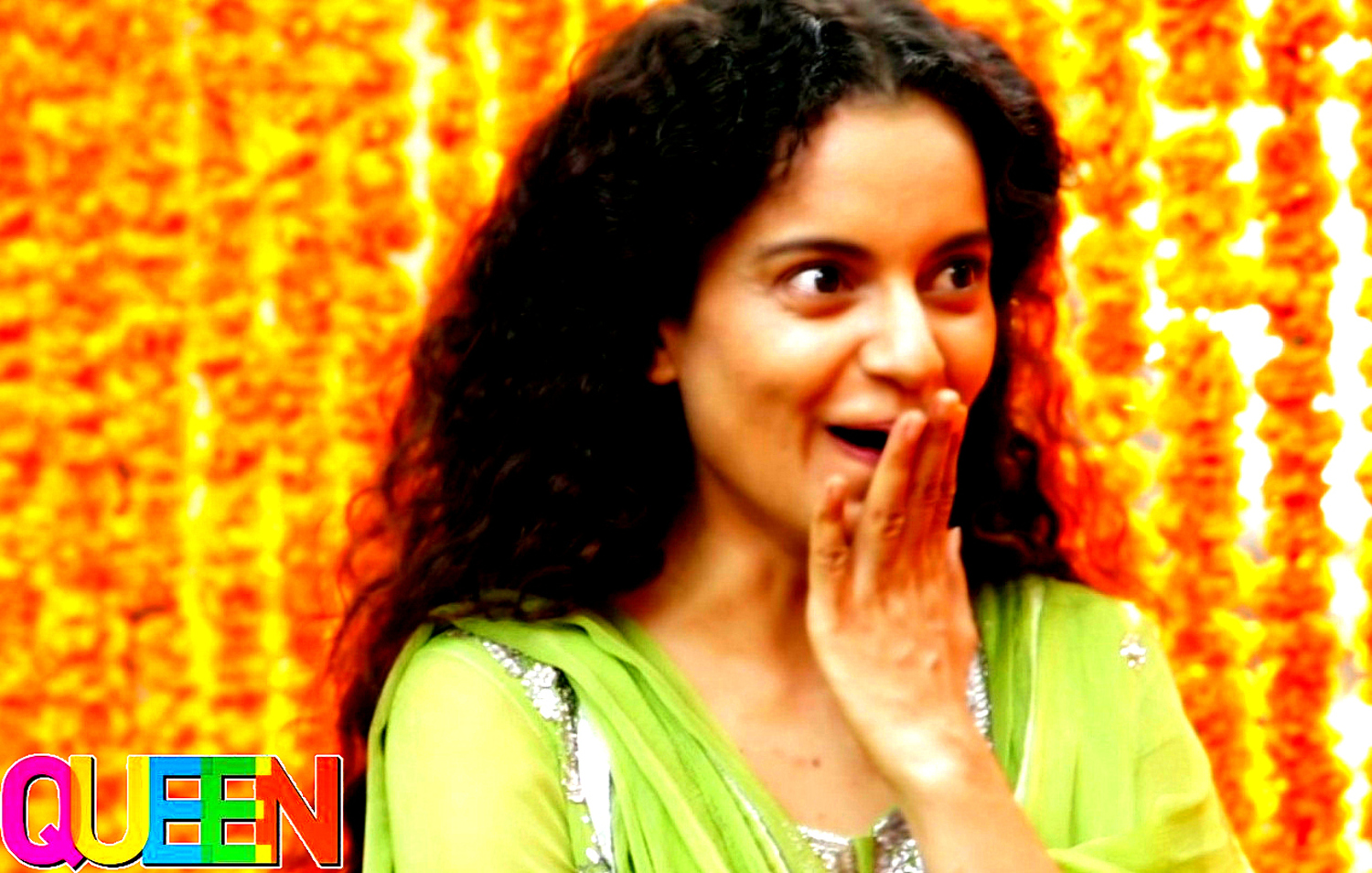 After hearing a lot about this movie, I went to watch Queen yesterday. This year has already given us some mind-blowing movies and its not even quarterly completed yet. Queen is one of those rare movies that leaves a mark upon your personality for a long time. Not every movie has an effect over you such that it changes your life. After watching Queen, I remembered another movie that had similar impact upon me- Udaan. If you liked Udaan, you should definitely go and watch Queen without any second thought. Kangana Ranaut plays the character of Queen so delicately, kindly and truly that you wish film to continue and never stop. It seems as if every character in the movie understands Rani's pain just like us, the audience sitting in the theater, and treats the movie similarly. It's not only Kangana but every character in the movie which makes it one of the special movies ever made.
Vikas Bahl is the creator of this movie and it seems as directors and writers of new generation have understood what kind of movies Indians expect this day. He makes a wonderful piece of cinema without adding any kind of raunchy, formulaic and aggressive stuff to make his movie look above other releases. In fact, Queen is already declared Super Hit and this fate was achieved only towards the end of second week when movie started doing well because of word-of-mouth. Anurag Kashyap and Vikramaditya Motwane has produced the movie very well. The screenplay and editing is also perfectly done. The music by Amit Trivedi is what makes the soul of the movie touch our heart and makes both of them fall in love with each other.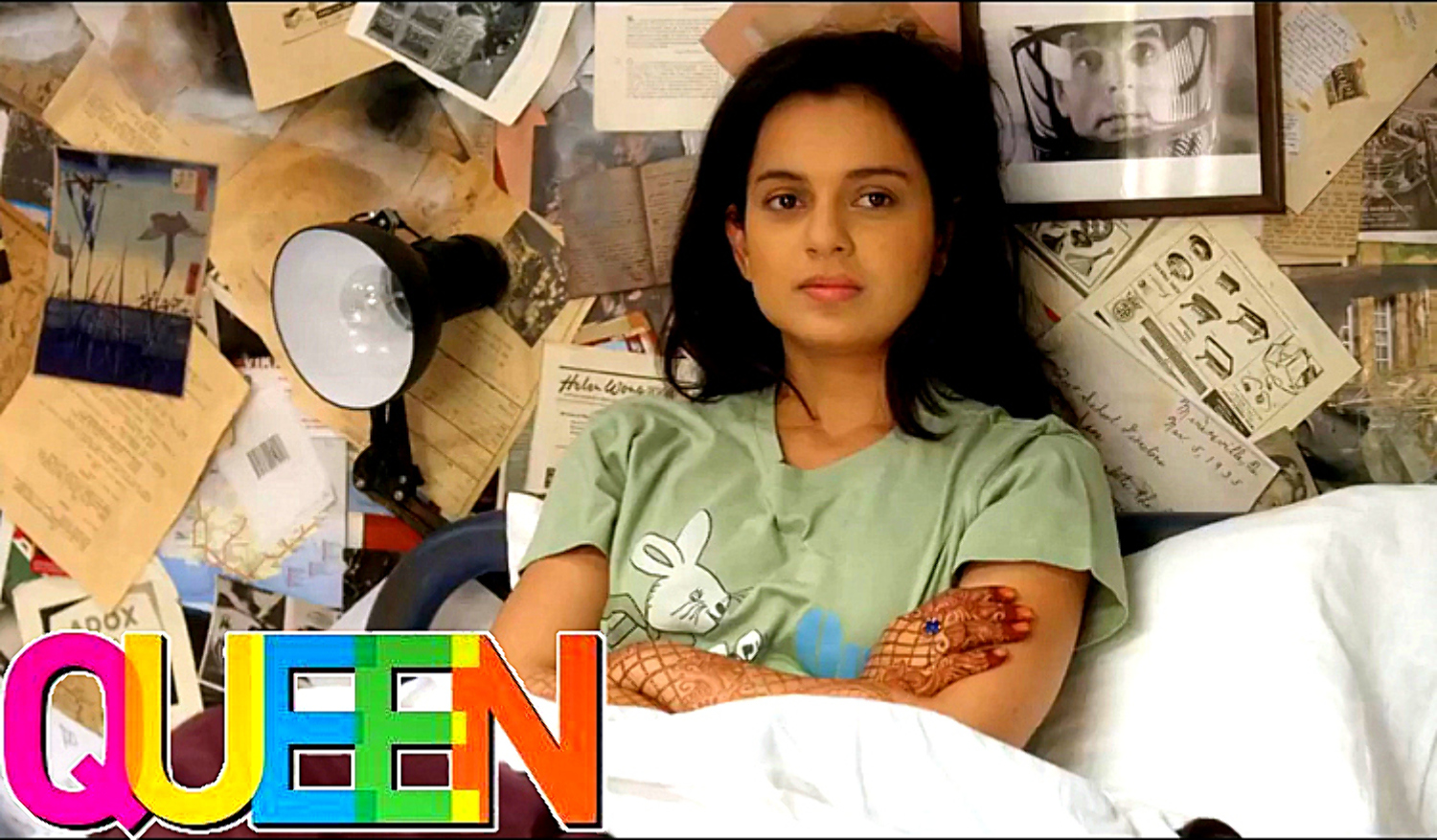 Movie starts showing the preparation for marriage. The description about her excitement and present situation by Rani in a back ground voice makes you smile
cheekily and wait for the movie to unfold itself. As soon as the tragedy strikes, the way she takes the whole thing after crying and locking herself in her bedroom for 2 days is exciting. Though movie is predictable since then but the way its made makes it look enormously beautiful and fresh. Her meeting with Vijay Lakshmi in Paris is another beautiful amalgamation of two characters. Rani's disco surprise and the later when she remembers how she was been asked not to dance by the person who left her, the way she opposes it through anger and fury on her face and hotness in her dance proves what an excellent actress Kangana Ranaut is. The kind of expression that Kangana carries through out the movie- the one of sadness, the other of kindness and the one of exploration- all at the same time blows the minds of audience in awe. :-)
Later on, when she reaches Amsterdam and finds three male room-mates and the way she gets connected to them is why this movie shall remain a piece of excellence for me. Since that moment, I started feeling as if I am reading a novel instead of watching a movie. Those three characters played by three boys of different countries is another beautiful example of acting. When she meets her fiancee, Vijay, in Amsterdam, the way she behaves with him at an Outside Restaurant, was another beautiful movie along with the climax where she takes a wonderful decision and that HUG and THANK from her steals the show in the end. In all, I wouldn't like to forget the work of Rajkummar Rao as Vijay Dhingra. He makes it sure that you hate him throughout the movie.
Queen says all that the women in India wants to speak to us. It shows how a girl isn't dependent on a man to fulfill her dreams and be happy. She can carve a way out for herself and surprise all who thought she can be nothing other than being just a housewife, which is a big role in itself but unfortunately, not respected in our country. I loved whenever Kangana used to bang into an incident and remembered those that she had with her boyfriend during her relationship in Delhi when he used to stop her from doing whatever she wanted to. Every time, the movie gets into flashback and comes back to presence, it shows how the same girl, keeping her kindness, softness and soberness intact, fulfills all that she wished to do in Delhi itself. Do watch Queen for its purity, loveliness and kindness. And yes, for Kangana Ranaut's excellence.
Thanks.