1011th BLOG POST-->>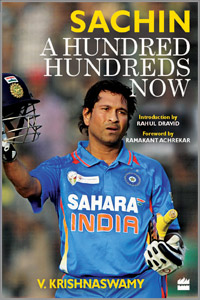 There are plethora of books that have been written on Sachin Tendulkar. If one stands in front of a Sports section in a bookstore or book stall, his head will start rotating seeing the amount of books available on the life and career of the Master Blaster. But how do you decide which one to pick? Well, I would suggest you to wait for some more months as he is in process of publishing his autobiography with the help of Professor Boria Mazumdar who has already published some great books on sports. But till then, if you really want to read about Sachin Tendulkar, I would suggest to go with the biography written by Vaibhav Purandhare. And if after that, you still want to read about THE GOD, it's the book that I am going to talk about now- "SACHIN: A Hundred Hundreds Now" written by V. Krishnaswamy. It is one of the most selling books that has been written on the Legend. This book becomes eligible to be purchased because it has "Introduction by Rahul Dravid" and "Foreword by Ramakant Achrekar". Do I need to say more?
SYNOPSIS:-
The wait is over. For the world's finest batsman and for a nation of cricket lovers whose hopes and ambitions accompanied Sachin Tendulkar every time he stepped out to bat.
On 16 March 2012, at Mirpur in Dhaka, after opening the innings for India, Sachin nudged the ball to behind square leg in the forty-fourth over to cross the final barrier: a hundred centuries in international cricket. In this account of the master batsman's incredible journey, sportswriter V. Krishnaswamy takes us through every hundred, every peak scaled on Sachin's way to the top. With an introduction by former India captain Rahul Dravid and a foreword by Sachin's first and most famous coach Ramakant Achrekar, this is a book for every cricket and Sachin fan.
About the Author:
------------------
V. Krishnaswamy was born in Kolkata and brought up in Delhi. He has been a sportswriter and commentator for thirty years now. He has followed cricket tours to various countries and has written extensively on the sport, as a reporter with the Times of India and then as the sports editor of the Pioneer and the Indian Express. He is a regular guest expert on cricket and other sports on television and radio.
Talking about Tendulkar's career, the first thing that people mention is 100 Hundreds that he have scored in the career that spanned more than 23 years. It is been said that no one else can achieve this feat ever or say, at least in 20 years, seeing the kind of Cricket young lad like Virat Kohli is playing. As most of us didn't even start going to school when Tendulkar scored 20-25 centuries of his career, we missed lot of memorable moments. If you are really a great fan of Tendulkar and wish to know about each and every century that he have scored, blindly purchase this book and read it slowly because only then will you unleash the excitement the book holds. The book does not tell about how Tendulkar practiced and became a great player but only describes each of his innings respectfully.
I loved the way author gave minute details about how Sachin scored his initial runs, how he reached his 50, how he hit that final ball to touch 50 and 100, who were the bowlers when he touched the landmark, who was the runner at the other end etc. He also tells the situation of the match before describing the innings of Tendulkar. After narrating the innings in a wonderful sport writer's way, he tells us about the records that Tendulkar and others achieved in that particular match in "Did you know?" section. He has divided the chapters according to the years. And then he discusses the number of centuries and half-centuries that Sachin scored in that particular calendar year. After he covers all the centuries, he describes what the two other sporting stars achieved in that particular year, Vishwanathan Anand and Leander Paes. A wonderful job done in letting us know even their development from just a player to a legend. And after that author discusses all the major events that took place in world and nation in the year. Amazingly written. If you loved jumping on each of the centuries scored by Master Blaster, go for this book. I rate it 4 out of 5.
Thanks.