977th BLOG POST -->>
There are few directors whom you love watching just because they released an epic few years ago or at least once in their life time. Some directors whom I can remember at this moment are Ashutosh Gowariker, Ram Gopal Verma(though we have finally boycotted him :-)), R. Balki, Anurag Kashyap, Abbas-Mustan and of course, Sanjay Leela Bhansali. These people have a certain style in which they make and develop their movies. If you understand at least one of their movies as to what director wanted to shoe or convey, it's assured that you will like all the movies made by them after it. The best example is Rohit Shetty. People have understood what to expect from his movies hence no one complains of illogical entertainment. People just enjoy him. People know what to expect from R. Hirani, K. Johar, R. Roshan etc. Hence these people continuously keep giving hits. But the name I mentioned initially are the ones whom people find difficulty in understanding and unlocking their state of mind while watching the movie.
Well, I went for Ram Leela and I must say that even on a Monday Morning, the multiples was almost housefull- 75% occupancy. People in the theater that I was watching in were clapping at some epic scenes and dialogues but most of the times, they were waiting for the next moment just because the current one kept running from a long long time. If you ask me, I would say that the movie was watchable and there's no such thing called a "Flop moment" according to me because I love watchnig the movie that's slow and steady yet full of exploration and story. That's the only reason why I appreciated Lootera so much even when people called it too stretched to be watched. I am one of those people who are still in 90s and early 2000s when movies used to be 3.5 hours long. Ram-Leela could have been much better but whatever it was, I got satisfied and felt that my Morning show's cheap ticket got vasooled.
Ram-Leela movie is said to be inspired by William Shakespeare's Romeo and Juliet. Well, I have not read the novel still hence luckily, I am not going to compare it with the book. This movie could not be called a Director's movie as it is more about actors' performances and their expressions. When a love story is being made, one should keep in mind the emotions that are related to love and family. Here, emotions towards love is given concern but the one towards family is totally side-lined. Director has kept camera only on the two lead actors and didn't give much attention to all the other factors that could have made this love story a perfect one. It's the same old story that we have often seen- Two people from different rival communities fall in love with each other and later on, the community starts interrupting their romance and the action scenarios begin in the movie. This is no different.
The best part of the movie is the acting and performance of Supriya Pathak whom we famously know as one of the casts in Khichdi series. Every time she is on the screen, you get a feel that you are watching a theater act than a commercial movie. Then comes none other than Shining Star of this year- Deepika Padukone. She has yet again surprised us with her Gujarati character and accent. The multitude that she has shown us since Cocktail is unbelievable and every boy wants to have a girlfriend like her and every girl wants to be like her these days. That's what happen when you achieve stardom. :-) Ranveer Singh has entertained the audience the same way he did in his first movie- Band Baaja Baaraat. He has a typical style of acting which makes him look similar in almost every movie but Lootera was an exception. Rest I would say none of the character except these three performed excellently that it would remain with you after the movie ends.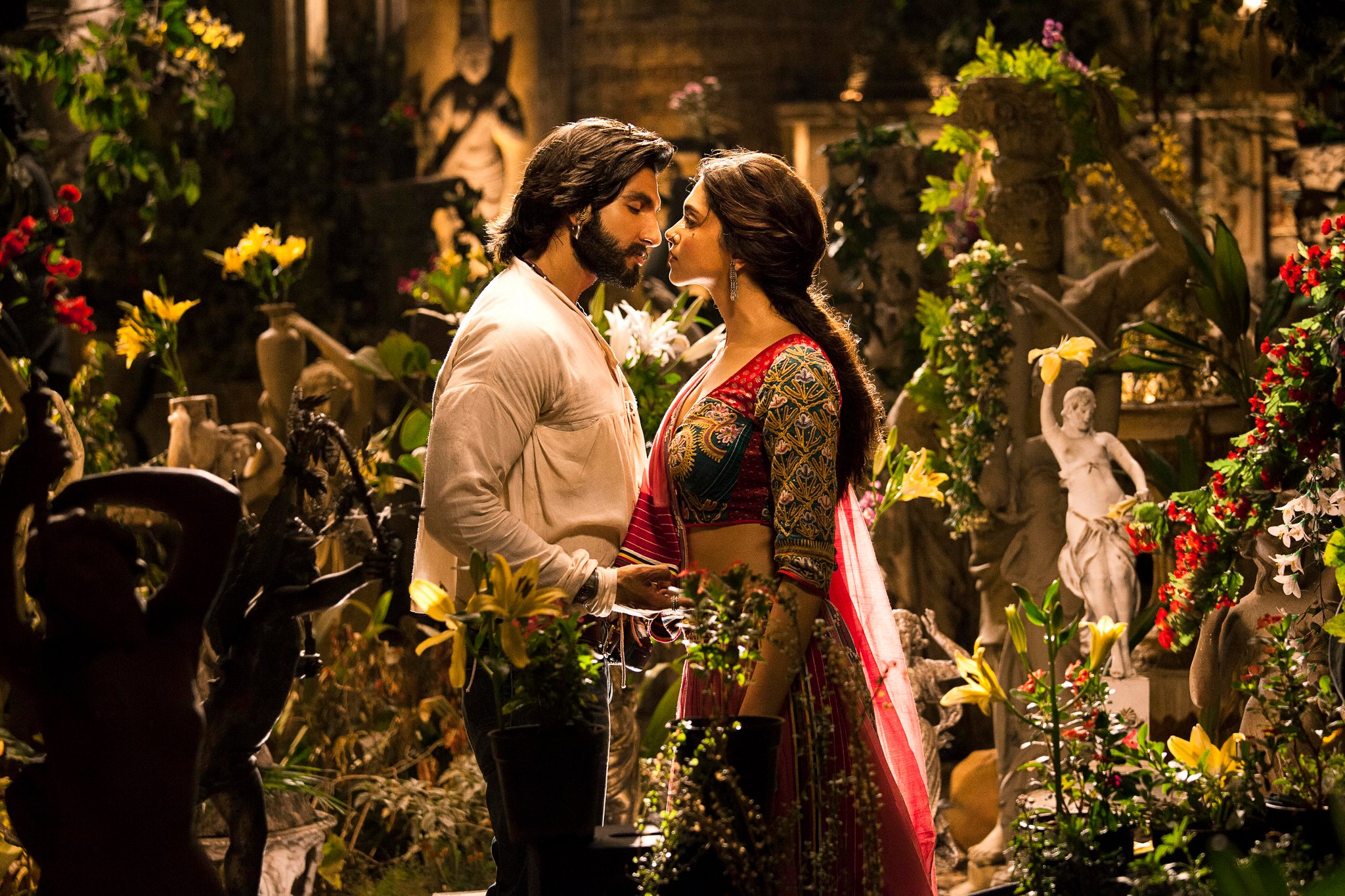 The best part of the movie is the first tryst of Ram and Leela. The whole scenario when they meet during the celebration of Holi and the unique silence that SLB adds to that scene just takes you to the world of Director's imagination. I have never ever experienced such visualization in any other movie of Bollywood yet. Another interesting scene is when brothers of both, Ram and Leela meets for the last time and gets into the competition of firing as accurately as they can. One scene that makes you furious is when a gang-rape attempt is been made on sister-in-law of Ram. That was one terrible moment in the movie which you don't want to see because of the condition our country is in. And then comes the pre-climax scene where I loved the way Ram Leela is organized and the attack starts happening all around the event including the person playing Lord Hanuman in it. These are few scenes that I still have with me.
As known, the sets of the movie are wonderfully made which makes you curious to go to a similar place and enjoy rest of your life in that environment. :-) Songs are pictured beautifully. I just loved the way Lahoo Munh Lag Gaya and Ang Laga De is choreographed. Isqikayoon Dishkiyaoon is one song that urged me to start dancing in the theater itself. Haha! Priyanka Chopra's item song is unwanted in the movie but having the beauty on the screen gives your eyes a treat for 3 minutes. :-) All the kissing scenes are sensuous but most of them are unwanted. Similarly, you want to see the initial developing bond between Ram and Leela but they end up rubbing their lips being strangers to each other. This is something I can't digest in the movies. Come on, I can't even kiss the girls around me from so many years and these characters end up kissing each other in the first eye-to-eye contact itself. There are so many direct non-veg jokes in the movie that you will definitely die while watching it with your family. That's the biggest disappointment I had with Sanjay Leela Bhansali while watching the movie that how can he insert such jokes and dirty talks in his movie when he is known as a family movie-maker. Hail!
Deepika's cleavage should get the Supporting Actress award as it has played better than any other character in the movie. Most of the scenes just keep flowing on the screen even when they do not have much part ahead in any other scenes. That is when, I, as a viewer, felt like leaving the cinema and returning back when a new scene would start. In all, I would say that watch only if you are ready for a movie of more than 2.5 hours with very few scenes that shall remain with you after you are out of the hall. I would give it 3.25 out of 5. And yes, Nagada Dhol is another mind-blowing segment in the movie.
Thanks.