1498th BLOG POST -->>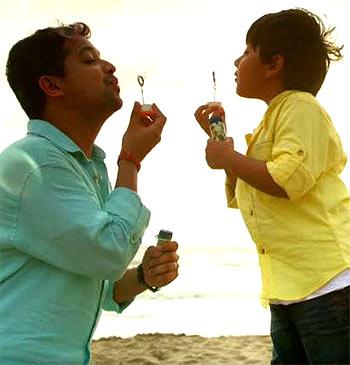 Y Films! have made a great entry in the world of web-series with their shows- Band Baaja Baaraat, Ladies Room, Man's World and now "Sex chat with Pappu & Papa". Though I won't say that it's a very out of the world stuff but it's something that's needed in today's India where ultimately, parents will have to come out of that shy world and explain their kids about sex rather than making them learn it through Internet and friends and knowing things wrong for a long time. In the first episode of this web-series, when the child asks his father about what masturbation means and father starts explaining him, as a viewer, I did feel awkward about it but with time, I understood what's actually it is conveying.
This has been the missing element between the talks of parents and children in our country. Every time, child asks a question related to sex, parents only fool them by giving some weird answers rather than actually teaching them properly about what the "word" means. This series show it perfectly how with examples, the words can be explained to the children without actually generating awkward between both the generations. The writers- Gopal Datt and Devang Kakkad have done a wonderful job in scripting all the 5 episodes and keeping them of limited time as that's what web-series is all about. The director, Ashish Patil's work, is also good enough.
All the casting is perfectly done and it's wonderful watching each of them in their role. Talking about the not-so-good points of the show, I would say that grandfather's interruption between the father and son's conversation only irritated the viewers rather than making them laugh and enjoy the same. Also many jokes seems to be forced which doesn't suit the flow of the good dialogues. Rest I would love to watch the 2nd season and expect writers and director to do it more perfectly next time. But still, this is one of the most refreshing and recommended web-series. I give it 3.5 stars out of 5.
Thanks.