840th BLOG POST -->>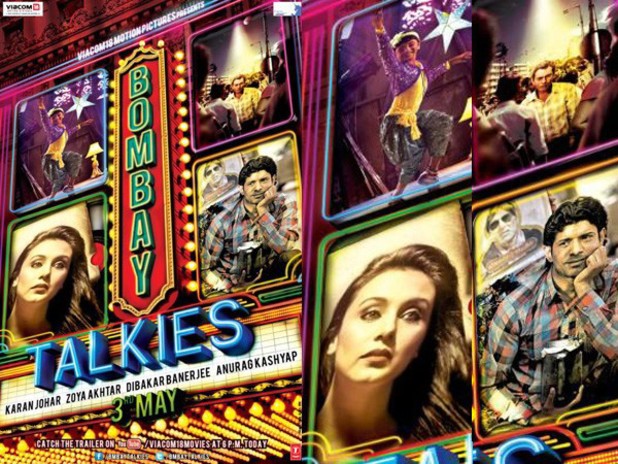 Last night, I watched the most-acclaimed movie- "Bombay Talkies". A movie that is the collaboration of the work by 4 elite directors- Karan Johar, Dibakar Banerjee, Zoya Akhtar and Anurag Kashyap. On the occasion of 100th Anniversary of Indian Cinema, this movie released as a tribute and as per my knowledge, anyone who has worked for this movie has not charged a penny. The trailer of the movie itself excited me to go for it once it comes. Due to examination, I was stuck. As soon as the shutter opened of entertainment yesterday, I went for this movie for just Rs. 100 at Inox Cinema. The concept of visualizing 4 short stories in a duration of 2 hours is a wonderful format but only when all the four stories show different worlds. And here, yes all the four worlds shown are different from each other. Each and every actor working in the movies had characters in-built in them. No one ended up with over-acting. Right from Rani Mukherjee to a small kid working in Zoya Akhtar's version, all were perfect in their roles.
Coming to the review of each story now.
The first movie that was shown is of Karan Johar's. The movie is based on the plight and the trauma of gays. The director has tried to show us how a gay is being tortured and restricted at home. Later when they go out in society how they start trying their luck any where as soon as they find an opportunity of finding a gay partner for themselves. And it is also depicted accurately as to how a good, beautiful and hot Indian woman also does not attract him but her husband does as the mentality is of a gay's. The topic is being shown many a times in movies and also in books but no where have I seen such an indecent version of it. I hated the story right from its 2nd minute. Every minute had the word- SEX for 5 times. When a movie is being promoted as a Family movie, how can Karan Johar assume that watching such vulgar and shameful drama is comfortable for us, not so elite society with family? In the end, the only short movie not worth watching in Bombay Talkies.
The second movie is of Dibakar Banerjee's. Here, the movie shows how a man is unemployed in the city of dreams- Mumbai. How he tries for every job post but there's no success in his venture. To hide his joblessness, in his chawl, he has said to all that he is a businessman and currently, his business isn't doing well. The women of his society are also shown taking dig at him. One day, when he is going out for an interview for a post of watchman, he tries to make his daughter laugh but she says that he does not like her anymore for a mere reason that he is not telling her any new stories of upcoming movies. He then meets with a very unusual event when he goes out of the house. He gets a chance to act in a 2-seconds role in a movie. He also gets paid for it. But he does not take the money and runs home just because he gets a new story which will make his daughter laugh again. A beautiful drama indeed. :-)
The third movie is of Zoya Akhtar's. As Zoya Akhtar has always shown in her movie about how an individual can fulfill his dreams, right from Luck by Chance to Zindagi Na Milegi Dobara, she has done the same yet again through this piece of 30 minutes work. A small kid whose father wants him to play football and be tougher pays for his Football coaching of 3000 Rs. But the kid does not like the manly stuffs instead he is intrigued towards the Bharatnatyam classes that goes on in vicinity with several girls learning the dance format. Later, he goes for a movie with his family and finds Katrina Kaif dancing on Sheila ki Jawani and he finds his interest more deeper. Now he decides that he is going to be a dancer like Sheila. When his father sees him dancing in dress and make up of a girl at home one day, he thrashes him. Because of his passion, he sees Katrina Kaif as a fairy talking to him where she asks him to hide his dream if people aren't supporting him. Later on, the way this boy fulfills his dream is all about conviction, passion, interest and never-failing attitude. :-)
The fourth, last and the best story is by Anurag Kashyap. He won my heart once again after Gangs of Wasseypur. As the passion for the Bollywood actors is too high in North India, father of this boy asks him to go to Mumbai and make Amitabh Bachchan eat half of the murabba that he has and bring the other half for him in the same way as his father stayed alive for 6 long year after consuming honey that was tasted by Dilip Kumar. The boy comes to Mumbai and gets looted by rickshaw-walla who takes 2100 rupees from him to take him to Bachchan's Prateeksha. He tries to enter his house unfamiliar with the position of the star that meeting him is not that all easy. The super-stardom of Mr. Amitabh Bachchan is shown in the movie with a background song running which tells what this Superstar has given us in all these 44 years of his career. Finally, in the end, the way this boy meets Bachchan and makes him taste murabba is an epic scene to keep with us in mind. Thumbs up to Anurag Kashyap.
After all the four movies, there comes a song which gives tribute to 100 years of Cinema where we find many actors giving guest appearances. I found it better than first three movies. It entertained me more. :-) In all, I would say that I have started hating Karan Johar after this attempt of his. Dibakar Banerjee is fine. Zoya Akhtar still makes me believe that I shall achieve my dream one day. And Anurag Kashyap like every time can still make me laugh. :-) But still, Bombay Talkies is a very boring attempt.
Thanks.
ABHILASH RUHELA - VEERU !!!