503rd BLOG POST -->>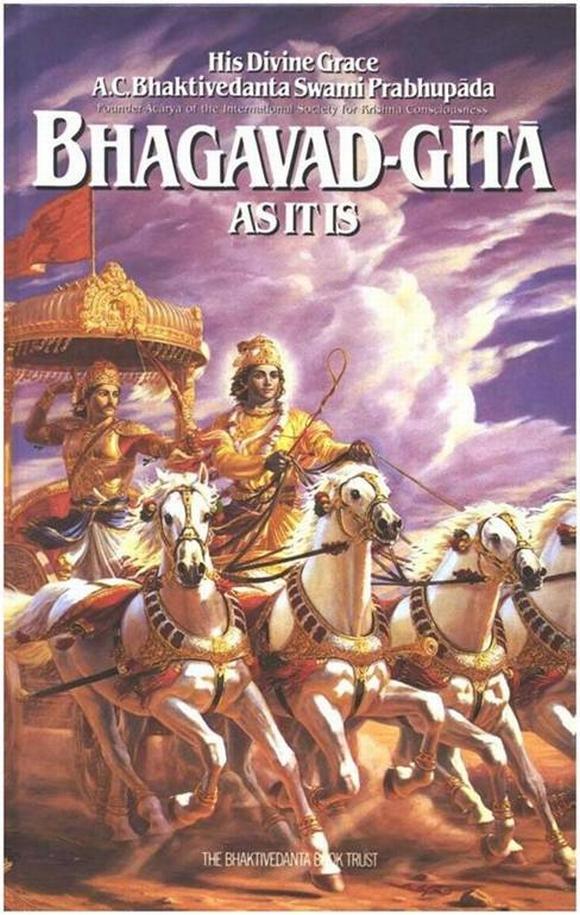 This is the same Bhagavad Gita I'm reading
which is asked to ban in Russia.
This is what I wrote when America asked their mates to burn Quran last year- Quran Burnt - Humanity Burnt !!! Now, once again, my heart has forced me to write something about the similar issue. This time Russia wants to ban Bhagavad Gita. I don't know why I am not feeling any kind of angst this time. I am Ok with their decision. I know its my holy book but still, if they are finding it extremist, they can avoid it. A God named Krishna is asked a question by a man who is doubtful and confused about what should he do when he sees that he has to fight against his relatives and brothers. Lord Krishna narrates the whole Gita in the form of conversation to him for days when the sipahis and senas are ready to fight against each other and win the territory. Don't you feel this weird sometimes? See, I am not saying that this book is foolish but what I am trying to say that people may find it senseless and they are allowed to ignore and avoid it. Why should we force them to keep the book with them? Just because I and you are Hindu, doesn't mean that everyone who is a human on this planet should believe in us. How many of us have gone through Bible, Quran, Guru Granth Sahib and other pious books? I don't think even 1% of this world's population would have done this. Then why do you create so much ruckus about this?
When Quran was said to be burnt in America last year, I don't remember a single Hindu friend of mine talking about it or showing a grief at an extreme level. But now, when the arrow is being targeted on Bhagavad Gita, everyone is conscious and no one wants their religious book to see any kind of degradation. Russian says that book is too extremist. And I don't think that they are 100% wrong when they say this. Isn't the book about guiding a man to kill his relatives and brothers without thinking about emotions as its a war and there is no place of emotions and relations? So what's wrong? And according to the information I have, Russian have said to ban the book which is being distributed by ISKCON members that is written by AC Bhaktivedanta Swami Prabhupada. They find this particular Gita extremist. So, if there is any other Gita which is written by some other Swami or religious guru/expert, they have no problem if they find it genuine. And before this, some Islamic countries have already banned Gita from a long time. So, its not a very big deal if it is getting banned by Russia too. Our temperament should be normal.
Fortunately, I have started reading the same Bhagavad Gita in English which is asked to ban by Russian Government :-) And I have completed its 100 pages. I am loving to know about my religion. I am inspired by my Muslim friends who recite their whole Quran in a year for one or many times. So, I thought lets know about my religion too with this weird Computer knowledge I am getting to learn from my Graduation course. :-) I have read some important verses of Quran and Bible too. But I'll read the whole Quran and Bible once I will complete reading Bhagavad Gita for 2-3 times as its very difficult to remember everything in a read. Atleast 2-3 times read will make me eligible to talk about religion. :-) Now, when Gita is asked to be banned in Russia, Hindus are saying that its not only a Book on Hinduism but also on Humanity. Now what kind of joke is this? A book would be on Humanity if it consists the name of all the religions or of no religion. Does Gita has mention of Allah or Jesus in it? No. So, how can it become a book of Humanity? It is a book of Hinduism just as Quran and Bible are the books of Muslims and Christians respectively. A book on humanity can be those motivational books which helps you to gain energy when you are too demotivated. Not the one which preaches you about the God of a particular religion.
And Yes, I am also hearing that BJP wants Bhagavad Gita to be the National Book of India. On this, someone said,"No No. Please don't. I don't want it to be 1411 left." :-) First, you call India a secular nation which is for every religion. Then, you ask a holy book of a religion to be the national book of the country. While begging for votes, you go to Muslims and promise them privileges and equal rights as all the religions but then, you ask to make Hindus's holy book the national book of India. Are you seriously dumb? When our India consists of so many religions and sub-religions, how can you ask a book based on Hinduism to be the National book? Please, speak every word with intelligence. The political parties represents the country. Even when you are not in power, you are the 2nd most accepted party in India after Loser Congress. So, stop dividing India by making such statements. And, coming back to Bhagavad Gita, I must say to every person who is barking on Russia- Read Bhagavad Gita first and then speak. Till then, you are a Hindu just because your parents are Hindu. You accept the religion appropriately when you learn and follow it by your choice. Ok?
The day I'll complete Bhagavad Gita, I will inform all whether the book is really extreme or not. Till then, no comments on this but I know that my religion can be insensible for others. I am no one to ask them to keep it in their home just because its my pious book. They can ask all their family members to be away from the book because it contains matters which is harmful for them to read and preach. Why to over react on this? And, a few countrymen cannot degrade your God or his teachings. Let them hate your God and your Holy book, you keep your attitude as firm as possible towards your religion and holy book. It will definitely bring a good revolution. Enough said. And writing on a religious topic is always difficult. If someone is hurt, please ignore this post and if you find it worthy, share it with your friends.
P.S.: 99% youth of our country can easily spend 150 rs and more on a movie starring Salman Khan just to see some fake actions and love. They can easily spend 140 rs on a Chetan Bhagat's novel which is a love story with no message. But, you ask them to buy Bhagavad Gita for just Rs. 100 and they will say "Faaltu ke paise nahi hai mere paas". So, my dear youth friends, don't give your statement against Russia until and unless you are in the world of Bhagavad Gita and its teachings.
Thanks.
ABHILASH RUHELA - VEERU