713th BLOG POST -->>
Not everyone's death halts our life. At 5.30 PM today, Mr. Yash Chopra, a man who needs no introduction, lost his battle against a disease- Dengue and left the earth for heaven. Few personalities are always seen and projected as "immortals". A thought never ever touches our brain that these certain class of people will expire one day and leave us with a great void. These are the people who with their work bring magics in our life. Without them, we don't even find few of our behaviors and fun of life in existence. Yash Chopra is in this class of people who are everyone's favorite. Their work is so enormous and vast that it touches the heart of every person associated with them. The job of film making is the most entertaining job which places you in heart of everyone if work is done rightly. And taking the name of Yash Raj movies is like giving a substitute name to Bollywood. Every time, new trailer of a movie begins with "YASH CHOPRA PRESENTS", we get glued to it. We project it as a movie that will at least not deject us. It'll have some moments of class and highness. It will have many moments that will end up as beautiful memoirs. This troth, trust and belief among people was developed single-handedly by Yash Chopra.
As his elder brother, B. R. Chopra was already into movie-making, it didn't take time for Yash Chopra to start with his career. Initially, he was to pursue Engineering but because of partition and his passion for film-making, he came to Mumbai with 200 rs. In 1959, he released his first movie Dhool ka Phool. The very next film was Dharmputra in 1961, which marked the debut of another superstar- Shashi Kapoor. The film also won National Award for the best film. In 1965, Waqt was released with big names of stars in industry. That is known to be the first film that bought the concept of Multi-starrer, the genre that got famous during 1970s and we still experience such movies. He then made many classic cult movies. He directed Deewaar and Trishul which gave birth to a New Superstar- AMITABH BACHCHAN. Deewaar is the movie which tagged Bachchan as "Angry Young Man". Yash Chopra gave an identity to the new comer. Yash Chopra then made many movies on violence and revenge. 1980s was a bad decade for Yash Chopra as all his movies doomed. But in 1989, with the release of Chandni, the first movie that gave a definition to Yash Chopra's kind of film that is still identifiable because of it- Heroine-oriented, romantic, emotional, drama, characterization, melodic music, touching background scores, 3 hours+ duration of the movie, beautiful foreign locations etc. This movie was shot in Switzerland which gave an identity to the country in a very distinct manner. The movie also reaffirmed Sridevi's position as the Top Female Star of the 1980s. And the movie also ended the era of violence and introduced the genre of Extreme Romance in the cinema.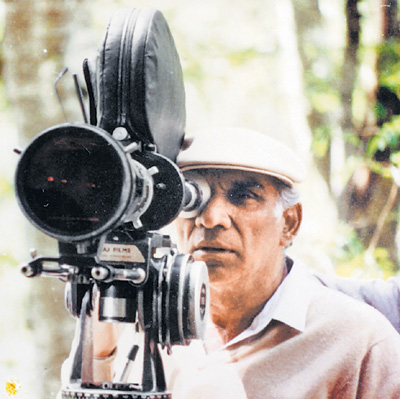 In 1993, with Darr, Yash Chopra introduced yet another Superstar- SHAH RUKH KHAN. After this, Yash Chopra made it sure that every movie he'll direct would be with Mr. Shah Rukh Khan. When Madhuri Dixit's career was on a downfall, Yash Chopra cast her in Dil Toh Paagal Hai in 1997 and gave a push to her career. Then, Yash Chopra went on producing several movies for 8 years without directing any. In 2004 came Veer-Zaara which went on becoming yet another successful hit movie worldwide. And he again started producing several movies for 8 years. And finally, he directed his career's last movie- JAB TAK HAI JAAN which is ready to be released on 13th November 2012- Diwali. On 27th September 2012, in an interview with Shah Rukh Khan, Yash Chopra officially announced that he is not going to direct any movie and thus, taking retirement as a director. But who knew that he shall be so unlucky to not witness the success of his last movie. For the shoot of the last remaining song in Jab Tak Hai Jaan, director Yash Chopra had a grand vision: a sari-clad Katrina Kaif romancing Shah Rukh Khan in the lush meadows of the Swiss Alps. But unfortunately, his illness, caused by a bout of dengue, stymied the plan for the song, which would have reflected his trademark directorial style.
The best thing that'll be remembered is Yash Chopra's last movie is named "Jab Tak Hai Jaan".

How perfect and designed whole scenario has been. God decides everything for such Super Human Beings. And now while connecting the dots, I realize why it took so much time for Yash Chopra to finalize the name of his movie and come up with something that isn't new(as we have heard the sentence in a song of Sholay several decades ago). I already had plans to watch Jab Tak Hai Jaan in its first weekend and now after the demise of the legend, I am assured of the presence at the nearest cinema hall to watch the last masterpiece by the director.
I would like to name various movies by Yash Chopra that he produced/directed and are my favorites. Although they are not in order of how much I like them but it's in order how they released: Kabhi Kabhie(the title song is still one of the most heard song in my playlist), Noorie, Kaala Paththar, Silsila(Voice of Amitabh Bachchan in Ye Kahaan aa gaye hum still gives me goosebumps), Chandni, Lamhe, Darr, Dilwale Dulhania Le Jayenge(the movie on 20th October 2012 completed its 17th year successfully in a theater), Dil To Pagal Hai, Mohabbatein(this movie has been seen by me for more than 50 times at least), Hum Tum, Dhoom(when the movie came, it bought a new revolution in the action genre), Veer-Zaara(epic), Fanaa, Dhoom 2, Kabul Express, Chak De India, New York and Band Baaja Baaraat. The last released movie that was produced by him- Ek Tha Tiger(not my favorite) ended up being the 2nd biggest movie in terms of Box Office collection in the history of Bollywood.
Now as the man is no more, his movies will still remain to entertain us whenever we would be wanting to see a classic cult movie. Till now, Jab Tak Hai Jaan was just a new movie by Yash Raj Productions but now, it would be celebrated like a Festival. When God plans thing, moments turn into memoirs. God planned the whole execution of departure of Yash Chopra from Earth to the Heaven hence I am assured that Jab Tak Hai Jaan will release with a new enthusiasm now. Great men are those who leave the Earth but leave their work with us to let us enjoy in the future course. Yash Raj Chopra is no more but Yash Raj Productions will always remain to be the favorite production house of everyone. Aditya Chopra is no less than his father and I am assured that he is going to take ahead the legacy excellently. My best wishes to him. And Yash sir, have glass of the best liquid in heaven with Rajesh Khanna and Dev Anand- the other two romantic souls like you. :-) And thanks for giving us- Amitabh Bachchan and Shah Rukh Khan.
I am not sad anymore but happy after observing the whole scenario and balancing myself with the truth that the whole thing is perfectly executed by God. So, let's cheer as Yash Chopra is still alive through his work. And sir, you will be always an example of working till 80th age of life Jab Tak you had Jaan. :-)
Thanks.
P.S.: Amitabh Bachchan just tweeted: "I never ever thought there would come a day when I would have to say - " Yash Chopra no more " .. He went away too soon !!"