1953rd BLOG POST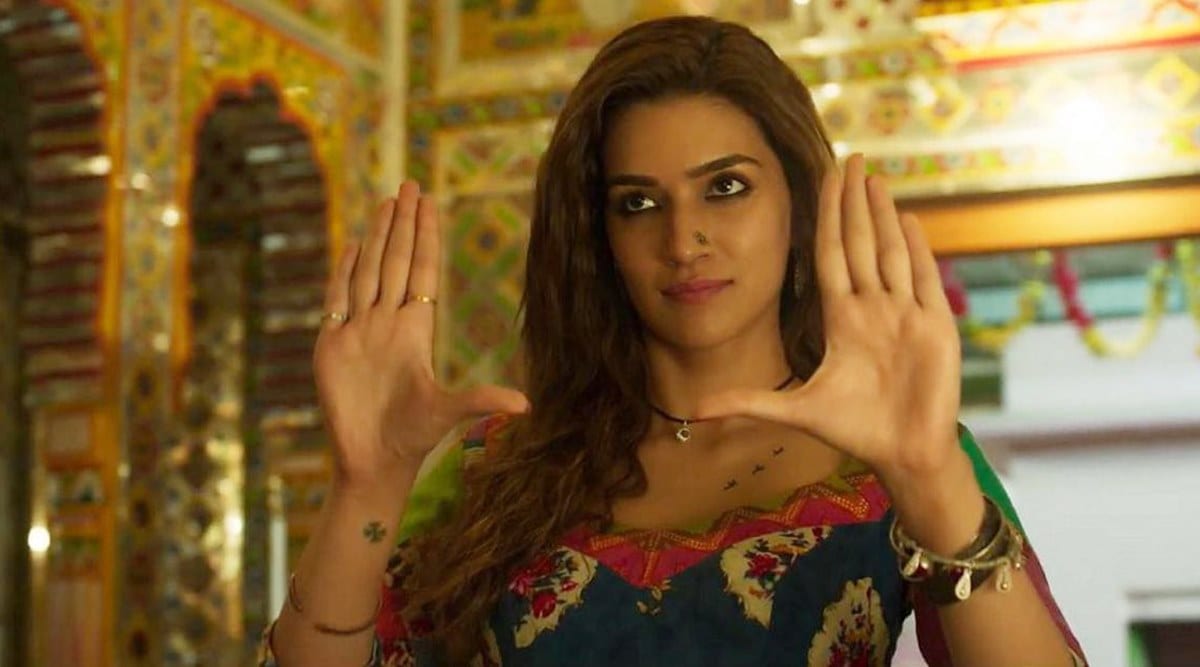 So Mimi released 4 days before its official release date because the movie already got pirated on some online platform. Luckily, its also Kriti Sanon's birthday today hence it has become double treat for her. To start with, let me tell you, this is the best acting performance from Kriti Sanon in her career and this time, rather than only liking her for the looks and charm, you are going to love and adore her for acting. I already liked her a lot but now she has made me believe in her as a good and terrific actor too. May God bless her with better opportunities in the future. Let's talk about her towards the end of the review again.
Mimi is a feel-good movie. Initially, you will feel that it's just going to be an okay-okay stuff but the way it starts changing its colour with every scene, you start diving into it and after a time, you and movie becomes one. Well, this became quite spiritual but yes, the movie has that power which makes you believe in whatever happens with all the characters in every scene. I liked how the makers have used the concept of surrogacy and displayed it very beautifully which will make unaware people understand about it while enjoying the movie. The sensitivity of the topic has been respected and you'll not find any disrespectful or demeaning words either for the surrogate mother or the parents who are wanting to have one.
The locale and dialect are used very wonderfully which works in favour of the movie completely. The dialogues are powerful which makes you laugh and cry whenever the makers want you to. And isn't this an incredible thing when audience starts dancing on your tunes? Talking about the music, yes, its joyful and soulful, too, as per the situations. The movie never loses its grip and keeps you entertained throughout – either through its comedy or drama or emotional scenes. The makers haven't overdone anything. The movie has everything in its right quantity. What I liked about the movie is that it keeps changing its tone every 10 minute and keep it balanced for us.
Talking about the performances, lets first talk about Pankaj Tripathi – well, he is again the winner here. From Kaleen bhaiyya, the kind of transformation he makes here is so powerful that you can't fail to notice it. He is back to the kind of characters we have always enjoyed him play where he is little funny, little mad, little crazy, little screwed yet has heart at the right place which makes him so lovable on the screen. The way he makes those small little gestures at the right moment in the right scene is commendable. The other performances by Sai Tamhankar, Supriya Pathak and Manoj Pahwa are equally good in their own parts. They play small parts but very essential ones. Even the roles played by the two foreign characters are emotional and powerful – you love watching them on the screen unlike other movies.
And now, finally talking about Kriti Sanon- Let's take her seriously now. She has just upped her game. She is no more the Kriti Sanon we know. Now when you hear that she is part of some big projects like Adipurush, wait to watch her rather than not thinking twice while reading her name. Every time she smiles, you smile with her. Every time, she is confused, you find the confusion within you. Every time, she is crying, you find lump in your throat. She just keeps you with her throughout and makes you miss her every time she is not shown on the screen. Even when Pankaj Tripathi is doing his job, you still want her to be there. I don't think there could be anything better to be said about her than this. She has portrayed a mother very nicely on the screen and convinces you with every expression she makes. This movie, MIMI, can be said as career-defining role for her and the movie shall always be remembered for the emotional ride she takes you along with her.
Overall, MIMI is one of the best movies made this year. Even though its predictable but it keeps you involved and entertained. I give this movie 4 stars out of 5. You will understand the pain of a mother – while she is pregnant or giving the birth or taking care of the child in his infant days through Kriti's acting and the storyline. Don't miss it.
Thanks.
WRITING BUDDHA