1691st BLOG POST -->>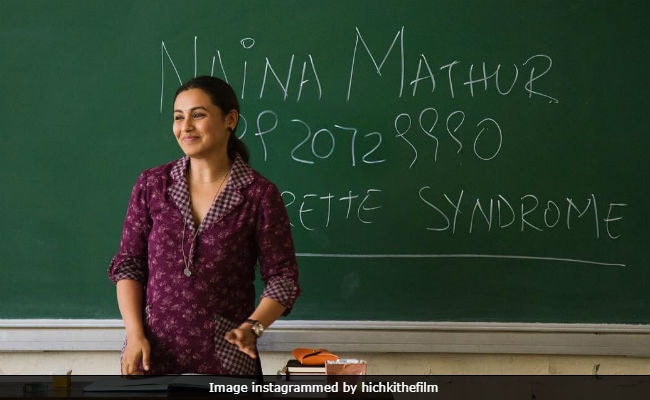 Whenever an actress comes back with a movie after years and is not working full-time with at least a movie per year, I become highly doubtful about the potential of the movie. My reaction was same when I saw the trailer of Hichki starring Rani Mukherjee even though I had liked her in her last outing- Mardaani. Finally, I saw the film on Amazon Prime and I regret not watching it in theatre when it was released. The movie is full of emotions and scenes that can make you cry or weep at any point of time. It is hard to find such movies in this genre of Bollywood where almost all the movies are either action-packed or genre-specific.
Hichki is about a girl who is suffering with Tourette syndrome but believes herself to be normal despite people laughing at her and judging every time she makes crazy sounds. She has a dream of being a full-time teacher which she achieves after multiple rejections. But her new job comes up with its own set of challenges where she gets a class of 14 students who have got entry in an elite school through the Right to Education programme. These children have interests in creating one mischief after another without thinking about who is on the receiving end and has not an iota of interest in studying and achieving something in life.
The movie is basically about Rani's struggle in making these students realize the importance of education and making it interesting for them. Also, she must regularly prove herself to the school where her peers believe that she is not capable of the position and needs to be thrown out immediately. The scenes based innovative way of teaching are masterpieces. Rani's acting as a patient of Tourette syndrome is perfect to the T. If nothing, you will at least end the movie appreciating her efforts in making herself comfortable in the shoes of this character about whom we haven't heard or seen much in our lives. Other performers such as Neeraj Kabi as a professor and all the child actors playing the role of students are also perfect in their parts.
The dialogues are great, and screenplay is engaging. The biggest fault in the movie is not doing justice to some segments which could have been dealt more intriguingly like Rani's character's relationship with her father. The communication between Rani and her principal whenever something wrong happens. The communication between the teacher and the students in some parts where as an audience you awaited to witness some epic dialogues between the teacher-students after some realizations creep in. Also, the climax is not very promising as it could have been directed in much better way. But still, Hichki is the kind of family movie we expect from Bollywood makers these days. I give the movie 3.5* out of 5.