1402nd BLOG POST -->>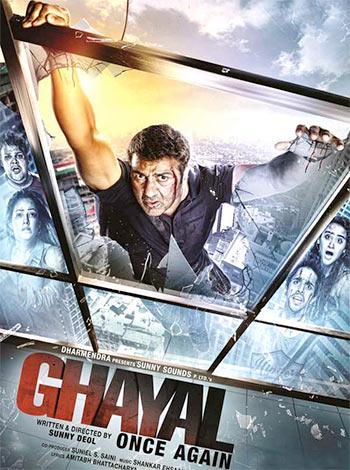 I watched Ghayal in my childhood and I don't remember much of it. When I came to know that a sequel to that movie is in plan, I laughed knowing that Sunny Deol is about to make fun of himself on big screen. There was a time when superstars like Sunny Deol, Anil Kapoor and Suniel Shetty worked as the lead actor. Now they shouldn't dare to make a movie revolving around them. The era is finished. Anil Kapoor have understood the same and therefore he does movies like Welcome, No Problem etc featuring many other actors which gives him success. In Ghayal Once Again, Deol looks tired, boring and ineffective. Even his acting skills aren't as powerful as it used to be a decade ago. Many of his dialogue deliveries didn't have finesse and lacked effectiveness.
Sunny Deol is also the writer and director of the movie hence the whole responsibility, praise or blame of this movie is going to be credited to him. Well, he should be praised for making one of the best sequels considering that it begins right from where it ended 26 years ago. It even shows flashbacks to prove that they have not diluted any facts and the movie is actually the sequel of a beloved movie directed by Rajkumar Santoshi. The first few minutes are chaotic as the characters are introduced but stability comes soon in the plot. But the problem arises when you realize that Sunny Deol have scripted this one still keeping the flavor of 26 years ago in mind rather than the current scenario even though corruption is still the root cause of the under-developed position of our society and country.
The chase takes so much of the screen time that it becomes exhaustive after a point of time. And because you have come to watch the movie for Sunny Deol, you find him on screen for very less time frame. And even when he comes, he is either getting emotional or running and chasing people to save them. There's no great dialogues between his character and villain. There is neither any clap-worthy fighting scenes. I expected the movie to be the one which will compel me to hoot and whistle but rather I kept scratching my head and blaming the superstar for over-hyping the sequel. Narendra Jha has delivered a great performance and even Tisca Chopra looked elegant in her small role. Rest, everything is just average including Soha Ali Khan. I give this movie just 1 star and that for the effort of Sunny Deol by being everything- Director, Writer and Actor.
Thanks.
ABHILASH RUHELA - VEERU!!!