1194th BLOG POST -->>
The terrific match for which we wait for 4 years is over. India crushed Pakistan by 76 runs to maintain their streak of winning against Pakistan for 6th consecutive time without letting them win ever in World Cups. People were quite scared as India does not have any previous players who can scare the Pakistan team just by their names. Leave performance. And then, the biggest absence of Sachin Tendulkar was another factor because of which Indian fans thought this might turn out to be challenging for us. But the way our batsmen performed, it is not only satisfying but touching the mark of 300 is more than enough.
In pressure, we are unable to give a presentation of 5 minutes out of nervousness and here, our team managed to score what is genuinely called a good score on board. Even then there was tension among masses as our bowling attack is one of the worst at present. We didn't have Zaheer Khan of last World Cup nor Yuvraj Singh who assured that he takes 2 early wickets to bring India in a comfortable position. But a great performance by Mohd Sami, Umesh Yadav and R Ashwin gave India a wonderful win of 76 runs- the biggest margin ever by which India defeated Pakistan in World Cups. Now who knew this match would turn out to be the biggest win by India against Pakistan without all those players with whom we recognize Team India with.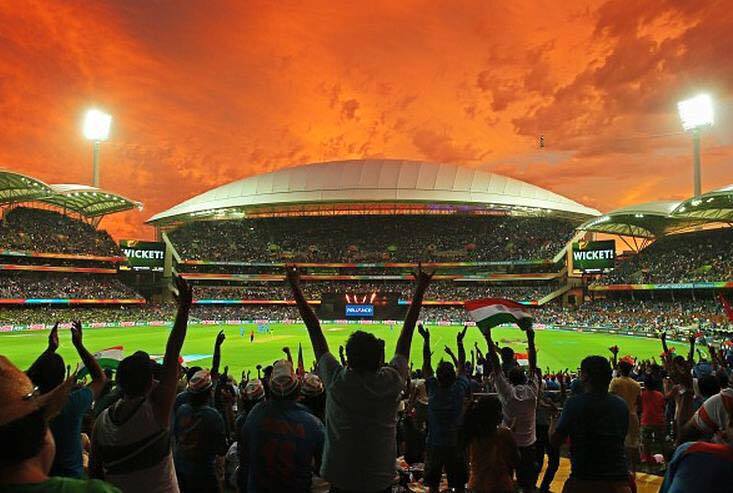 The biggest happiness and satisfaction was seeing Virat Kohli meeting the high expectations we have kept with him since Tendulkar's retirement. He proved that we will not have to miss our GOD for next 15 years till he's in the team. He hit another ton to ensure that the team wins. In the presentation ceremony when he was complimented as new Sachin Tendulkar, the 30-seconds continuous smile on his face said it all. He knows he is the one. And I am happy that success haven't gone in his head and he continuously scores whenever it matters. Dhawan gave a good start even when his form has not been good since last 2 years. Similarly, it was great to see Raina come and score 70 so quickly that it made easy for Kohli to struggle with his nervous 90s. When Kohli scored his ton, Raina's fist went up in air before him. It tells us a lot about the sporting spirit, team spirit and the kind of selfless player he is! The only disappointment has been Rohit Sharma, yet again. He never scores in the matches that matters.
Another delighting moment was Amitabh Bachchan's commentary in the first 10 overs. Every time he gave some technical details, the air of sweetness used to fill the ambiance. But he was too sweet to make us feel the aggression of India and Pakistan match. Good that he did it for initial few overs only. In the end, I would also like to salute Dhoni for that DRS appeal and overall captaincy in today's match. I would like to share bullets consisting of several records created today and other statistics that is necessary as it's not every day when records are made in India vs Pakistan's World Cup match. :-)
Virat Kohli becomes the first Indian to score a century against Pakistan in World Cups.
Virat Kohli surpasses Sachin's highest score i.e 98 (in WC 2003) against Pakistan in World Cups.
Virat Kohli scores 22nd ODI century and equals Sourav Ganguly's number of centuries. He is now the 4th highest in most ODI centuries scored internationally.
His 22nd ODI century is the quickest. Achieved in his 143rd innings. Surpassed Sachin Tendulkar's record of achieving the same in 206 innings.
Virat Kohli scored century in first match of India in both the World Cups- 2011 and now in 2015.
Misbah-ul-Haq second oldest to make a 50 in the WC.
MS Dhoni has become the 3rd wicketkeeper to reach 14000 runs in international cricket. Sanga 17338, Gilchrist 15252
Sohail Khan's 5 for 55 is exactly the 50th five-wicket haul of World Cup history.
Sohail Khan is also the first Asian to claim five-wicket haul on World Cup debut - He is the 9th overall.
The last 3 maiden overs(in a match) bowled by an Indian bowler in World Cup was in 1979. R Ashwin did it today after 3 and a half decades.
In each WC match whenever India and Pakistan played, the team which won toss opted for batting.
India maintains its record of winning all the matches against Pakistan in World Cups by 6-0.
This is the biggest margin with which India defeated Pakistan in WCs i.e. by 76 runs.
In this World Cup 2015, century has been scored in every match till now.
In this World Cup 2015, 300+ runs has been scored in each match at least once.
Thanks.