589th BLOG POST -->>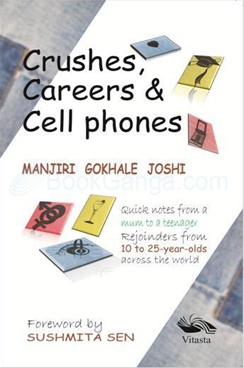 The purpose of my Blogging has changed from time to time. Because, living in the country like India, one gets to know so many things that one gets confused about what is the main priority of this nation. :-) Once, I used to write on Social Awareness. I got many comments saying "We already read newspapers. Don't want to get bored again by your blog posts". I closed it. Now-a-days, I write on Social issues that a Teenager/youth faces in our country. I am also one of them, hence I am one of the most potential people who can talk on this. I feel comfortable writing about these things. Same is this book that I completed reading right now. "Crushes, Careers & Cellphones" is a book written from a perspective of a mother for all the children between 10 to 25 years old. Manjiri Gokhale Joshi is the writer of this book who has impressed me by writing something which is very recommendable for all the children between 10 to 25. And to some extent, even parents can read this book. As, it gives some suggestions to them too, as to how shall a child be handled when he gets on a wrong path.
ABOUT AUTHOR:- Founder and CEO, Maya CARE. Manjiri has worked in the media, publishing, information technology (IT) and Business Process Outsourcing (BPO) industries since the last 16 years. She is a recipient of the British High Commission's Chevening scholarship for Indian professionals. Her past assignments include – National Manager, Marketing at ICICI Lombard General Insurance, Head, Contact Centre and Head, BPO HR, Zensar Technologies, Assistant Editor, Dataquest and a news reporter with The Indian Express. Her first book – Inspired, co-authored with Dr Ganesh Natarajan, was published in 2006.
This Non-fiction book is divided into many chapters. Let me name some of them alphabetically, yes the same way as they have been organized in the book. :-)- Achievement, Alcohol, Ambition, Anger, Break-up, Boyfriends, Cellphones, Crushes, Drugs, Embarrassment, Exams, Failure, Gossip, Girlfriends and so on. Each chapter is written by keeping a target in mind. That once the Chapter ends, the teenager gets an idea about what the writer wanted to convey as a parent, and this is what our parents expect from us, or this is how our parents think about certain topics. So, this will help a teenager to develop himself in the same way, and treat life accordingly. As, I am 22.5 years old now, even I found some points about which I never thought the way it has been described by the author. Authoress Manjiri has done a very good job by writing a book that is beneficial for both the generations- Parents and Children. :-)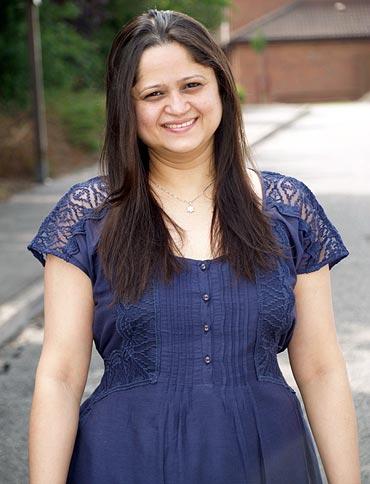 Right from the Chapter- Alcohol, I got a sense that I am about to complete a very sensible book. The way this chapter is described gives an insight of how a parent does not want a child to consume alcohol, and even if he/she does, parent will not kick him away, but accept; and author has given some tips of how to consume alcohols even if you can't resist yourself. This approach is enough mature to turn the mindset of a child by 180 degree. :-) After each Chapter, there is view of 1 or 2 children between the age of 10-25 speaking about their perspective on the topic. And these children are not just the Indians that are residing in India, but all around the world. So, it helps you to understand the mindset of those who are away from India. And, I don't think that I need to say much about the book which has a Foreword by Sushmita Sen and is being recommended by an inspirational "Kiran Bedi". :-)
Little drawback of the book is that few topics are not treated as well as it could have been. The major targeted teenagers are girls than boys. The book becomes monotonous after some times because of the same format. And, few examples could have been added to make some topics more effective. END!!! These are the only drawbacks of this book. Else, I will recommend all the parents to gift this book to their child. It'll help them a lot. And, if you are yourself reading it kiddo, go get this book, at least you will know about your parent's view on certain topics that you think they don't have any idea about. :-) I don't think that I should rate this book. I am just recommending this to all who are between 10 to 25. And even if you are above 25 and live with your parents, go get this book. There are still some loopholes in your life where you can improve yourself. :-)
Thanks.
ABHILASH RUHELA- VEERU