455th BLOG -->>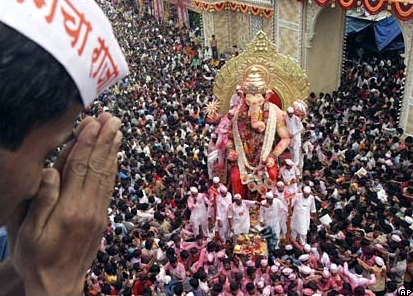 So the festival of Ganeshotsav started today. The dhol, the baazas, the masti, the dancing, the dedication, the devotion, the praying, the offering etc etc etc. started. Ganesh Chaturthi is the only festival in Maharastra which changes the whole climate and atmosphere. At every 50 metres, there's an idol of Lord Ganesh. At every 50 meter, you start requesting the Lord for some favours. God, in return says, you keep on living and I'm here to charge you whenever your battery will be low. The connection of God and his devotees is endless. The ineffable bonding between these two entities is awesome. No one has ever seen a God but everyone believes in him. Every religion has claimed God is there - as a male authority. I don't know how we decided that but no religion has their God as female. I think male serves the world better than the female can. :-) Actually, its right too. Boys have heart to understand the eyes of the person standing in front of him but a girl can't. So its better to define the gender of our God as Male rather than Female.
I have seen many friends who don't believe in God or lost their trust in him because they feel that God has always neglected him/her. For them, everyone in this world is in a better position than them. Anyone who thinks so, if reading this Blog, still think that you are in the worst position than anyone else? I hope your view will change. Every person, either believing in God or not, remembers God when stuck in the most difficult and decisive phase of his/her life. Whenever a person finds that there's a blankness ahead and there's no way visible, he takes the name of God in the hope that the God who have never spoken or never met him/her would reply. This is the bonding between the Almighty God and Ever-demanding Human being. Even if a person doesn't believe in other religions but have the knowledge about the names of God of different religions, he starts enchanting every name he knows so that anyone of them listens and his work is done. This is how desperate a human being is to make God hear his problem and give a solution to it. But he doesn't knows that God has given you a brain and now its your task to use it and solve the problems of your life and show God how efficiently you use the most important part of your body. :-)
Whenever human beings find that they have no solution to the problem and there are 15 people sitting to hear what their view is, they end the whole topic, saying- Jo kismat mein hoga wohi hona hai. Sub upar waale ki kitaab mein likha hua hai. I agree that God would have written a script for you. But then, if you'll get up and take a chance of changing it, you can make the script of your life yourself. What I believe is that, God gives brain to a human and expects him to use it as beneficially as he can. God doesn't write your destiny by himself. He sits and see what are you going to destine your life using that Super Powerful- Brain. So stop blaming God and start pushing your life in the direction you want it to go with the collaboration of Hard-work, Dedication, Persistence, Consistency, Sincerity and Discipline. If you blame your Father-Mother for what you are today, then remember, they are the one who kept feeding you till today and kept you alive, now atleast work to repay them whatever they have spent on you till now. This will make you realize what have they done for you. God gave everyone Parent to make them provide you all the pleasure he wanted to give to you. So Parents provide you with whatever God has asked them to. They can never provide better than that. But there are many examples where Parents provided very less to children but their children have created history and changed their whole life. So, don't blame God for this too.
On this Ganesh Chaturthi, ask Lord Ganesh for all the strength you need to give your parent the same happiness they gave you. I must say 10 times better than what they gave you. Celebrate the festival with all the enthusiasm and zeal because God visits us just once in a year and we should not let him go unnoticed. We should make him proud of being with us- his slaves. We must compel God so much that they offer us with whatever we want in our life. I want a good parent and I already have that. I want a secure life and good health and I have that. I want a good future so for that I'll have to wait when the future will be present and I'll come to know whether I'm happy or not. So, God has given me whatever I wanted. And I have always seen that whenever I have demanded something which is right for me and my life, God has offered me without any questions and tests. So, for such a humble God, I don't have any kind of complains and hot feelings, I only have Love, Affection, Devotion and RESPECT.
GANAPATI BAPPA MORYA.
Thanks.
ABHILASH RUHELA - VEERU