363rd BLOG -->>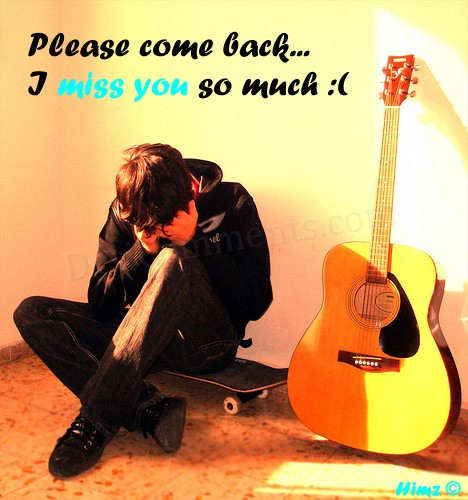 I still remember the day when she kissed me for the first time. I was weeping incessantly as we were leaving each other without knowing that when will we meet for the next time. She was acting to be stronger and tougher but my tears made her tears to roll out. Now, both of us were crying and we had no words to explain our desire and feelings. She never kissed me before that and I never thought of doing this. I closed my eyes for a moment to control my tears and I found that her lips were touchnig my right cheek. I opened my eyes to check that whether this is the imagination of my subconscious mind or this is happening in my real life which I never thought of. I had no guts to look into her eyes after the first kiss from her. I felt very shy. I didn't spoke a single word. I went to the station to drop her and she left me with a last hug. I kept crying for the next 24 hours.
After leaving each other, the only support we had was our Mobiles. We kept talking to each other for hours and hours. Our relation grew more stronger than before. We started respecting and loving each other more like never before. She asked me to stop crying and to be happy in life. I told her that no one has given me such a love like you have blessed me with so I can never stop weeping when you aren't with me. I started sending her gifts on all the festivals which were meant for our relationship. She used to love my gifts. On my birthday, I asked her to sing a song for me. She agreed and with her small voice like a 7 years old girl she started singing - Geet gaata hoon main, gungunaata hu main, maine hassne ka vaada kiya tha kabhi, isliye ab sadaa muskuraata hu main. I never heard this song before she sung it for me. I asked her that why did she sing this song for me and the reply was that once I promised to laugh and smile but I didn't fulfilled that promise as I kept crying even after that. This made me weep and cry because no one cared in such a way for me in the time that passed.
Our love became so stronger that we never cared about what world would say about us. The only thing we cared was that we will not hurt each other because of misunderstandings and arguments. But, life and time planned something else for us. She started sending few SMSes to me. She started excusing by giving the reasons of her father being strict and her mobile being into maintenance. I controlled my feelings and pain for some time but finally a moment came when I understood that she is least interested in me and my life. I don't know what changed her but I understood that no one in this world remains the same. Time changes, season changes, people in your life changes and so the heart of the person changes too. The example was She and her heart. I cried a lot and I asked to be the same what she used to be but she was not interested anymore. She just said that I am the same and I love you in the same manner but it is not possible for me to chat with you through SMSes always. This simply meant that she didn't wanted to talk to me. In past, she faced many problems because of our relationship which she handled properly and kept loving me as always but this time she was in no mood of continuing the relation with me.
She left me alone. I don't know the reason till today. I am still wandering for the reason. I have no problem if she wants to leave me. I have the problem that why can't she tell me the reason for which she left me. Today, I am just thinking that should I bow down and wish her a Happy new year and resolve all the matter and come together again. But then I think that why should I show her that I am missing her when she don't care about me and my life. I just want to tell her that I know I hate you for many reasons but this hatred can disappear if she will come back in my life with the same passion of care and love she had for me after that first kiss of our life. I know she loves me but because of the lack of communication and the heap of ego in our relationship she chooses to remain away from me and my life. I know she wants to cry too like I want to. I know that she wants to hug me tightly like I want to hug her. I know she wants to share that diary milk with me as she used to. I know she wants to scold me whenever I do any mistakes. I know she wants to chat with me on google talk as we used to. I know she wants to send me long mails as she used to. And I also know that she wants to Kiss me again in the same way as she kissed for the first time.
I hope that 2011 will help me and her to come closer by leaving our past behind and accepting our present. HOPE !!! HOPE !!! HOPE !!!
I STILL LOVE YOU.
Your Veeru - Come Back. I hope you are reading this. I can't write more. Sorry !!!