2020th BLOG POST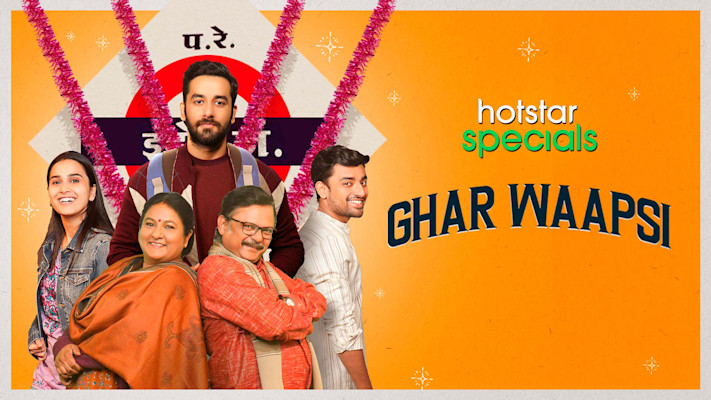 It is often said that don't judge a book by its cover. I think the same will have to applied for OTT contents now. For last 2 weeks, whenever I accessed Hotstar, the poster of their new series "Ghar Waapsi" never looked interesting to me. I kept skipping it. Finally, yesterday, as I didn't have much options, I thought of watching it and man, how engrossing and touchy the series is! There were many moments which made me not only weep but have a proper cry session. Haha! Sometimes, you don't understand what you need in life but such series makes It easy for you to understand at least some perspective on how you could tackle or handle a situation. I remembered my long holiday I had last year when I stayed with my aunty and cousins – the time I had there and the amount of peace and homeliness I felt living with them.
Ghar Waapsi has many such scenes that are gem to watch and I would like to talk about few of them here. When the main protagonist goes through the phase of joblessness and he doesn't get any response from anywhere – even the things that seemed like success ends up getting stuck, he discusses it with one of his college seniors. He responded asking him not to worry. He tells specifically that this is just your slump phase so relax and let the moment pass. I literally paused and thought about my life and the way I react to situations. This one sentence has such great feedback on how we take so much stress about something that it starts impacting our mental health immediately and gradually, it starts worrying our physical health too. Otherwise, if we just consider any bad time as a slump phase and let it go, we can pass even the hardest times celebrating our life. We all know that Life is about both – good and bad times so why do we treat it as hell whenever it shows us another side of the coin? What an eye-opener this scene has been!
There's another scene between the siblings where the brother who has just returned back from Bangalore asks his sister why she has stopped sharing things with him whereas everything was shared earlier between them. She confronts and tells him how she had few big events in life when she tried reaching out to him but he never picked up the phone due to his urban lifestyle of being busy in work and keeping family on hold forever. She taunts him saying that you come twice a year to home and keep your availability as a family member by being just that temporary guest. Now, in this particular scenario, none of them are wrong. We know how busy our lifestyle gets in the corporate life but the fact remains that we actually stop trying to even connect with our family on personal level once we leave home. In few cases, we are so busy that even if we stay in the same house, we behave as if it's a PG – we use home just for sleeping.
This takes us so away from our family that our elders stop looking for support in us whereas our younger ones stop considering us for guidance. Is earning money or deadlines at office so important that we sacrifice something as precious as this? I can realize it myself the way I have become closer to my parents during this WFH phase where I am able to be of some help to them due to my availability 24*7. Now they know about my whole schedule for the day whereas I know what concerns they face while living alone as senior citizens or due to their health issues. This has really made us behave little less aggressively with each other in cases where our opinions don't match. Similarly, I don't have siblings but my younger cousins are the ones closest to me. I ensure that I keep on asking about them and learn what's happening with their life and provide as much help as possible I can provide as an elder brother. All of this needs to be in place in our life otherwise just traveling to office, hustling there and coming back to sleeping is something that doesn't excite me anymore.
There are many great events in the series but I would mention just one more point before this blog post turns into a long boring research paper. The protagonist leaves his hometown without informing his friend who stood with him for the whole time during his tough phase of joblessness. That friend feels very bad and ignored when he realizes how he has been treated as almost no one and he confronts him on call one day. Similarly, when he goes back to Bangalore, he feels everything is fine with him as he is performing well in his new job and meeting the deadlines regularly. It is his girlfriend who sits with him one day and makes him realize that his super-busy attitude is not because he is loving the job or he has some goals but because he wants to escape from the memories he has gathered while being with his family for 1.5 months. He is trying to avoid missing them and nothing else.
Don't we need such people in life who can raise a complain about our attitude or some behavior which made them feel bad? Don't we need a partner who makes our relationship go secondary for something we need to prioritize over him/her? Why don't we often keep such people closer to us? Why do we run behind friends who serve nothing and leave the ones who were always standing besides when we were in our slump phase? We take so many things for granted and realize their value after almost a decade of losing everything and everyone. Memories are Past Tense. I don't think we should keep nurturing the good days only in our mind. We should ensure that the same moment that made us feel good should be regularly lived. Our schedule needs to be optimized in a manner that it gives us immense happiness regularly rather than becoming a festival – which comes once in a year.
Well, Ghar Waapsi is a feel-good series and a terrific eye-opener. I would ask you to watch with all your family members as it has lesson for everyone – father, mother, brother, sister and well, obviously, us, the hero of our lives.
Thanks!
WRITING BUDDHA