569th BLOG POST -->>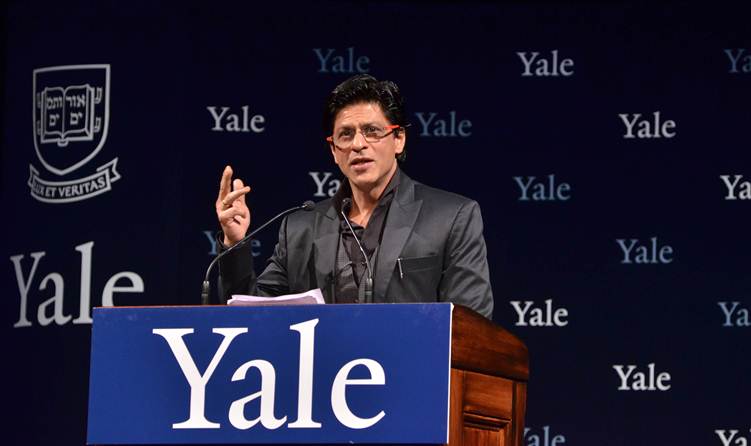 Right now, its approximately the 10th hour that #SRK, Shah Rukh Khan is trending on Twitter. The reason for which Shah Rukh Khan is trending is weird and something that's not acceptable. Shah Rukh Khan was detained at USA airport once again. This is being happening in loop that SRK gets detained at USA airport and later on they ask for an apology for whatever happened with the Superstar of India. The same activity happened with our best and most respected President- APJ Kalam Azad last year. But, the reason for which major tweeple has trended SRK is not for showing some concern or some anger against USA customs but to make fun and dig at Shah Rukh Khan. Yes. If you spend most of your time on Internet and other useless things which has no productivity in terms of making you successful in your life, means that you don't have a life. According to this, even I don't have one and I accept this. But, I make it sure that I make dig or fun at someone who falls under my category of being a loser. Not on someone who is at the place where 99% Indians are below him in terms of Success, fame and money. (Sometimes its fine, but every time?)
The reason for SRK's detainment is a bug in the US immigration department's database of suspicious people which a country uses to maintain the list of several thousand names. And this is why, every time SRK's name is focused, it marks it as a "Red Flag" and hence, SRK gets caught every time by the US custom officials. Indian government has asked many a times to remove his name from the database but it has not been done yet. But, none is talking about this in our country. They are happy to see someone getting humiliated and snubbed every time he wants to land in a country which possesses the best power in the world. Can't we call it a jealousy of our people that they can't see a normal and common boy of Delhi turning into a Superstar of this era? Rather than taking an inspiration from him, they are happy to malign his name as best as they can through the power of followers they have on the social networking site. Shah Rukh Khan went to USA because he was being given the best honour of Yale University there. But no one is talking about this. And neither has anyone shared the link of that video that consist of SRK's inspirational speech that he delivered there. (By saying that neither of them means the majority who is talking against him. There are some sensible people on Twitter too.)
Has anyone of us got anything honorable even in our own town? No. None of this flock earns even the 1% of what Shahrukh has in his bank at the age of 45. But rather than learning some good qualities from him, they will keep making fun of this superstar. What SRK earns in a month, is what the men of your family can't earn in next 200 years to come. Challenge these words of mine. Yes, you lost. :-) I am not a great fan of Shahrukh. Ok, I am not even a fan. But, neither am I so senseless and fundamentalist that I will always speak against him. You may remember a blog I scripted after Filmfare Award about why I don't like SRK humiliating other stars of our Hindi Film fraternity for their failures. So, I am not one of those dumb-heads those who fight to prove their passion for their idol. Shahrukh Khan is not my idol. But, I see him as one of the most influential persons of this country.
Our parents are behind us every minute, but still we waste almost 90% of our time on these Social Networkings and hanging around at useless places like malls and parks. But, take an example from Shahrukh Khan. Both his parents expired when he was just 16, and what he thought then was "I want to make movies so damn bloody big...that my parents somewhere sit down on a star and from there also can look at their son and say 'I can see his movies from here better than I can see the Wall of China or anything. We see his movies covering the face of this earth". Can you even dream something so bigger? You and me make fun of his last disaster- Ra.One, but can we even design a video game with best 3D graphics? I have used these sentences once in my blog, I will paste it again:
"Shahrukh and Salman Khan have been rival from last 2 years. Salman Khan, regularly, mocks Shahrukh whenever he gets a chance. Whenever he is on television to promote his new movie, he says something indirectly to Shahrukh with the support of his friends who are judges on those shows. If Shahrukh would have taken these jokes seriously, he would not have attempted a movie of 150+ crores- Ra.One. The movie became a disaster and everyone made fun of Shahrukh. Shahrukh would have gone into depression. First, because of the personal allegations Salman makes on him. Second, Salman is banging the Box Office since two years and all his movies are breaking records. Shahrukh can take this as a severe insult and sit quietly. Third, all his good friends are leaving him because they find Salman more genuine than him. But, see Shahrukh and his will to give his best. He is unstoppable and interminable. He is coming with the same confidence in every movie even when he knows that his movie will be unable to break his biggest foe's record and people will create jokes on him again."
So, my dear Indian youth, try to take some inspiration from these personalities rather than making fun of them. Sometimes its Shahrukh, sometimes Amitabh Bachchan, sometimes Chetan Bhagat, sometimes Sachin Tendulkar. At least, try to include yourself in this group that you have that amount of haters that can Trend you on Twitter. I have embedded the video's link above, do see it and take some inspiration from what Mr. SRK said.
Enough said.
Thanks.