2029th BLOG POST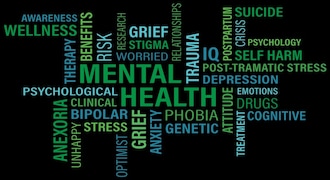 10th October is dedicated as Mental Health Day for every human being who have or are suffering with any such issues. We generally say that such dedicated days doesn't make any sense when relationships are concerned such as Father's Day, Mother's Day etc. because we tend to be with them always – either living together or away. But days such as this needs to be given prominence because it helps the victims get confidence that there are people who care for them. The taboo is still not gone. People like the reels talking about it. Everyone shares the Youtube videos where their favorite actor or Youtuber is talking about their experience. But when someone feels that they're going through a tough time, they tend to hide it despite knowing that people are aware about it.
Why does this happen? Is there a demon sitting within us who is still judgmental about this hence we think that the similar opinion would be thrown upon us? I think there's some truth to this otherwise there's nothing which stops a person from sharing about their emotions with others. Unfortunately, there's some role of the fast-paced life also. Most of us find others busy in job – either traveling for it or trying to meet a deadline or preparing for some future position. We don't find any human left in anyone than a machine running for career growth. We think that everyone just loves earning, spending and multiplying money and no one has anything to do with human values and feelings anymore.
We know that in case we end up speaking about our vulnerabilities, the person would just shrug and leave for getting back to their job. There's a possibility that they might also start ignoring us as their happening weekends would then will have to be spent in giving us time to get us back on track. This is the main reason why an ambitious me stopped seeing career as everything in life. Yes, we need money to survive and thrive and all of us should sit alone with ourselves and ask innocently and shamelessly regarding how much money do we exactly need every month to lead an okay life with no qualms of being less-rich. When we get that answer, we should then see if we are getting the same or not. Mostly, we would be in the same range or even more than that if we have been reasonable enough while calculating our needs. Once we get the answer to this, career, then, must become one part of our life and not the life itself. And if we are far behind, it's time to see this positively and work towards upskilling ourselves happily and positively but after reaching the point, slow down again.
Many of my friends switch their job and motivate me to get a higher package but I regularly tell them that I need comfort and peace over money any day and I have come to this conclusion – mostly after experiencing Work From Home culture. I just don't wish to travel to office and slog there for 11-12 hours without getting a chance to even get a nap or restful 5 minutes. I enjoy this phase where I get enough money to sustain my lifestyle – enjoy a bit – and also save some for my future. I have understood the priorities of my life which helps my mental peace be sane. I just can't afford to lose it for anything – not even money. I like when I wake up with fresh mind and smiling face. I don't want to lose this space for career, people and growth.
All these progress-oriented stuffs will happen and are already happening – but at a pace where I am fine with the speed. I don't like rushing for anything. I am okay with delayed accomplishments. I am already in my 30s. Situation is different when we are in our late teens and 20s where we have to nourish our skills and get on a path. But now that I know what my path is, I don't care about the destination. Because I know there's none. This is just an endless journey. None of us have any goal about which company or what package we will stop at. We will keep running behind more. Hence, being on the right path is important. Which I know I am already walking upon.
Hence, it's time to be little less machines and more humans so that we are able to share our vulnerabilities with others and also understand them better. People should find their environment friendly and personal enough to be assured that they'll get the care if they ask for it. As we know that posting a job will fetch us Interview calls, posting a picture online will fetch us online engagements, we should have the same confidence about the real life when we need someone to know about our personal problems. But to have that, as Gandhi said, the change should start with self. Change yourself. Slow down. Understand your mind. Know your limits. Push when needed. Pull when required. Give yourself time. Develop good habits. Accept that career is just a means to earn money. Life is beyond it. When you will change, you will help everyone else change around you, gradually, but yes.
I am saying this with experience because whenever anyone who knows me find themselves in such a space, I am the first person they send a HII to. Because they know I don't judge as I have seen enough and gone through mental health problems for two longer phases of my life – well, one is currently going on. They know that if I am not able to help, I will at least hear them completely, keep everything confidential and continue being with them until they are fine again to move ahead with life with ample amount of energy and happiness. I only know of 2-3 people around me who are someone I can ping anytime. We need such people more. Almost everyone of us should be similar. Less judgmental. More Helpful. On this World Mental Health Day, let's try to evaluate and understand how we can construct our life similarly and be for our own people at home and around the way we are for our bosses at work.
Thanks!
WRITING BUDDHA