1720th BLOG POST -->>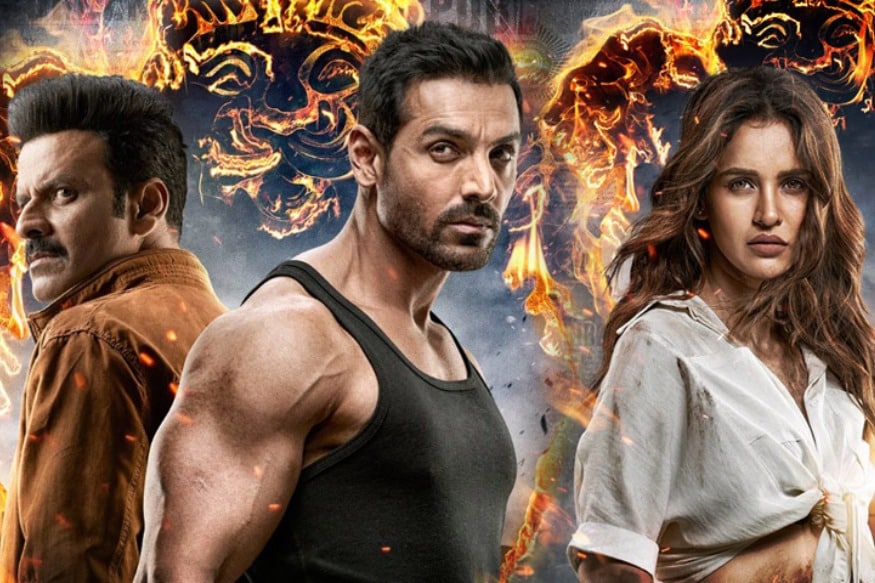 Like Akshay Kumar, John Abraham has also chosen a path of patriotism to survive in the industry. And as a producer, if you will notice all his recent movies has been based on the topics which are related to country- either presenting a historical event of our country or the prevalent conditions of corruption and system like his latest production- Satyameva Jayate about which we are talking about. Satyameva Jayate had released on this Independence Day alongwith Akshay Kumar's Gold but yet survived and managed to earn 80 crores which is a remarkable feat with no major starcast.
Satyameva Jayate is a story of revenge where the son kills biggest corrupt policemen across Mumbai City because he wants to give justice to his father. Manoj Bajyapee enters the movie in its first 30 minutes and since then, he is on the run behind this man who is killing his colleagues but the chase goes on till the climax making this the basic plot on which the movie runs. Reading this plot, you must be remembering the era of Bachchan's 70s and 80s when such story was the base of almost every story. This is where the Satyameva Jayate as a movie gets stuck. It is talking about the same thing in the same manner with new actors. That's it. It is not even conveyed in some more intellectual or thrilling manner. It is done just as it has always been done since all these decades in the Hindi film industry.
Milap Zaveri has been someone who is known for his sex comedies but it's great to see him direct something very different from his regular stuff. He has done a great job considering the script that he had with him. The dialogues are superb. Disclaimer: They are too-much even when a normal conversation is going on. The background score with Sanskrit shlokas etc. gives boost to the violent and hero-winning scenes. Disclaimer: They are so regularly used that in some scenes, you await when will this music start and as per your expectation, it starts just right then. There are many overdramatic scenes which could have been portrayed little realistically. The flashback of protagonists' childhood becomes irritating after some time.
Saying all of this, the performances are what makes this movie special- specially by John Abraham who still carries very limited expressions throughout the movie yet impresses with his body language and dialogue deliveries. Manoj Bajpai has given one of the strong performances of his lifetime. He has given life in each and every scene of his screen duration. He could have been explored more if writers could have done magic with the twist they bring after the half-time of the movie but they just let it go just like that. Overall, Satyameva Jayate is a family entertainer with lack of logics in many scenes but would force you to whistle in some scenes. I give this movie 3 stars.
Thanks.
ABHILASH RUHELA!!!